The best cheap ukuleles for beginners
Definitive selection of the best cheap ukuleles for beginners, how to choose and conditions that a beginner ukulele must meet.
Selection of ukuleles to learn to play
This is our ultimate selection of cheap ukuleles that are perfect for beginners to help you learn to play. Also, we will show you how to choose the most suitable one for you at the end of this guide. It is important for you to know that the right instrument for a professional ukulele player is not necessarily the best one for a beginner ukulele player. There are a number of conditions that a beginner ukulele must meet, all of which we will look at below.
You may also learn to play guitar, find the best acoustic guitars for beginners.
Best cheap ukuleles for beginners
Kala KA-CE
Kala KA-15S
Cordova 15CM
Kmise KMU26T
Kmise UK-24
Makala MK-B
Makala MK-SD
Ukulele Quick Pick
A good choice can take a long time, since there are several different types of ukuleles, and it is important that you know what you are looking for and what you need to choose the perfect ukulele for you. Maybe, you don't want to complicate yourself too much, and we have already done an analysis of which ukulele is best for each type of ukulele player. Thus, our selection has an option for children, guitarists, those looking for cheap prices, those looking for the most versatile, and those looking for an electro-acoustic ukulele and more.
Kala KA-CE: The best overall.
Kala KA-15S: The cheapest option for those who have a limited budget.
Cordoba 15CM: The Premium option for those who do not have a budget limit.
Kmise KMU26T: The best tenor ukulele for beginners.
Kmise UK-24: The best electro-acoustic option.
Makala MK-B: Best for guitarists who want to get into the ukulele.
Makala MK-SD: The best option for children.
Kala KA15-CE Concert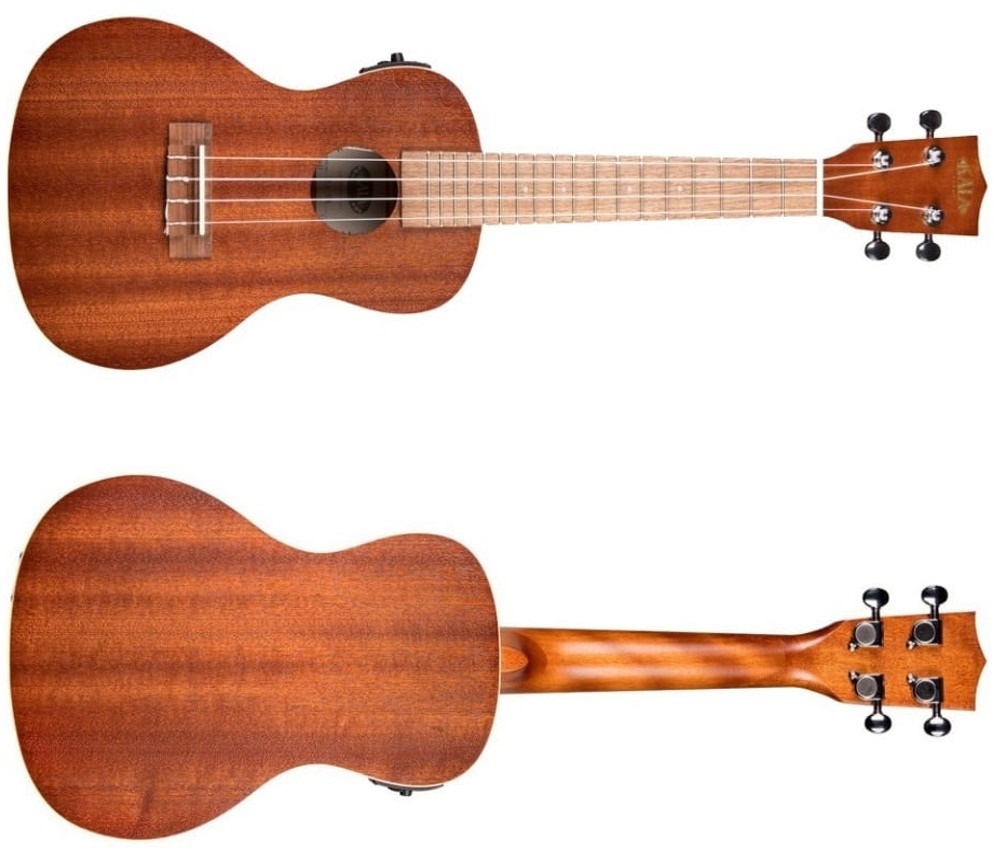 One look at the Kala KA-CE and you'll notice the brown satin finish, a glossy finishing touch that Kala adds to this instrument's translucent brown color. Made of mahogany, a genuine tonewood. The body of this ukulele is made of African mahogany. Even the back and sides are connected using the same mahogany veneer. Mahogany is a great tonewood as it strikes a balance between mid and high tones.
Further helping this ukulele achieve an enhanced tonal range is the walnut fingerboard, which contributes to the resonance for a warmer timbre that cancels out any overly bright sounds from the nylon strings. Unlike soprano ukuleles, this concert ukulele offers more space between the frets so you can easily navigate the fretboard. Plus, it's reassuring to know that you'll stick to the gig size even if you hit an intermediate level. Among all the beginner ukuleles, the KA-CE features high-quality tuning pegs. However, with extensive use, you'll want to oil them for stable tuning.
Beginners will appreciate that a ukulele starter kit is included. Along with the ukulele, you'll get a black gig bag, strap, cleaning cloth, a set of Aquila Nylgut strings, and a clip-on tuner. Kala pre-strings this instrument with the same great Nylgut strings, so you can start strumming right away.
Additionally, Kala includes an Austin Bazaar instructional DVD where you can start learning the basics of the instrument—from chord voicings and melodic phrases to strumming patterns. However, this ukulele does not have the strap pins, but you can get them from your local store.
Kala KA-C vs KA-CE
Finally, you can choose the KA-C or KA-CE version. They are identical except that the first one is not electric, and the second one is. By electrical we mean that it can be connected to an amplifier. Consider if you will need to amplify your ukulele or if you will be a bedroom ukulele player. Maybe you don't need it.
Pros of the Kala KA-CE
Mahogany top, back and sides
Great tone balance
Accessories included
Pre-strung with Aquila Nylgut
step by step lessons
Cons of the Kala KA-CE
Overview of the Kala KA-CE
Without a doubt, one of the best beginner ukuleles you can buy. With a DVD course, a variety of accessories, and excellent tonewood, the Kala KA-C or KA-CE concert ukulele will see you through years of learning. From an instrument-oriented perspective, Kala brilliantly manages to find a happy medium between a bright and warm timbre, making the KA-C the best choice for beginners.
Take a look at the rarest and most coveted electric guitars in the world.
Kala KA-15S – Soprano
This option is an excellent option to learn to play the ukulele. Unlike the two concert ukuleles included in this selection, this time we are going to get our hands on a soprano ukulele. Kala makes this instrument from authentic African mahogany, both the top – the back – and the sides are literally molded from a piece of mahogany.
Although the fingerboard has a dark tone, it does not appear to be made of rosewood, it looks like walnut. However, the timbre balance here is nearly identical to the KA-C, making this ukulele one of the best if you're looking to stay on a budget. This Kala KA-C ukulele features a fusion of warm and bright tones.
Along with the ukulele comes a range of free accessories and add-ons that beginners always like. These include a gig bag, free lessons when you register your instrument on the Kala website, and a quick start booklet to get you familiar with chord shapes.
For all the freebies, I think cheap beginner ukuleles, especially kits, should come with a spare set of strings in case the pre-strung game gets out of hand. This usually happens when the instrument is left unattended in instrument stores.
Pros of the Kala KA-15S
Affordable / cheap
Gorgeous tonewoods incorporated into construction
It comes with a sleeve and a quick start booklet.
Access to lessons on the app and website
Punctual tonal balance
Cons of the Kala KA-15S
Unstable tuning gears
Does not include string set
Overview of the Kala KA-15S
There are many aspects to how good this beginner ukulele is. It sounds naturally bright and produces a pronounced midrange tone profile. Really the price and sound quality is unbeatable if you are looking for the cheapest possible ukulele.
You might also be interested in and the best basses for beginner bassists under $500.
Cordoba 15CM – Concert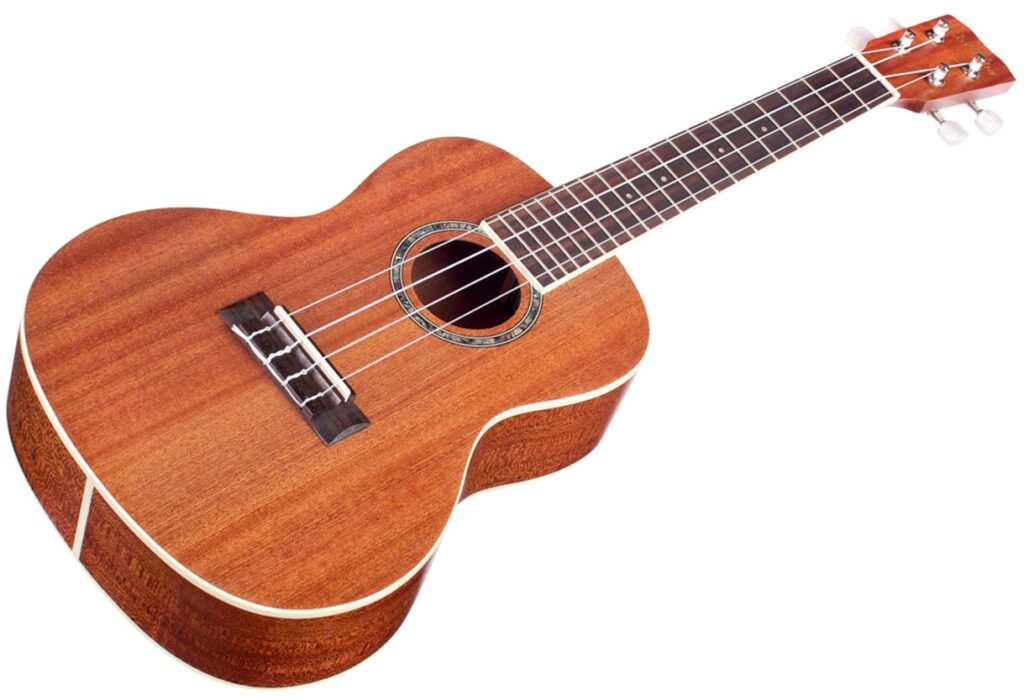 Every instrument is easy to play until you take it seriously. This is a consensus among musicians, and the ukulele is no exception. If you plan to unleash a virtuoso musician in you, then the Córdoba 15CM Concert Ukulele is your perfect companion. Out of the box, this ukulele looks pretty standard with the mahogany top, back, and sides. The Cordoba 15CM has a stunning high quality satin finish, and boasts a solid build quality.
Unlike the KA-C, Cordoba's well-crafted instrument features a rosewood fingerboard instead of a walnut one. Rosewood works the magic of finding a great compromise between mahogany's already happy-sounding high tone and a dark timbre, resulting in quality midrange tone articulation.
Thanks to this rosewood bridge, the depth of the midrange is enhanced by the mahogany soundboard of this concert-sized ukulele. Similar to build quality, nickel-plated tuning machines manage to keep Aquila Nylgut strings in tune. On other ukuleles, the tuning of the E string is detuned. Although the Cordoba 15CM is the most expensive ukulele in the selection, and does not include accessories, it is the best Premium option with quality construction, hardware and tone superior to the rest of the options.
Pros of the Cordoba 15CM
Ideal for aspiring beginners.
Solid build quality with mahogany top and rosewood fingerboard
Midrange Tone Profile
Good quality pegs
precise intonation
Cons of the Cordoba 15CM
Expensive
Without accesories
Summary of the Cordoba 15CM
Constructed from African mahogany and rosewood, two true tonewoods, quality hardware, and impeccable construction. This is the great option for those who are looking to buy a good ukulele that can accompany them throughout their life as a ukulele player. Without a doubt, the great alternative to the Kala KA-CE.
Check out our review of the best digital pianos and keyboards at all prices.
Kmise KMU26T – Tenor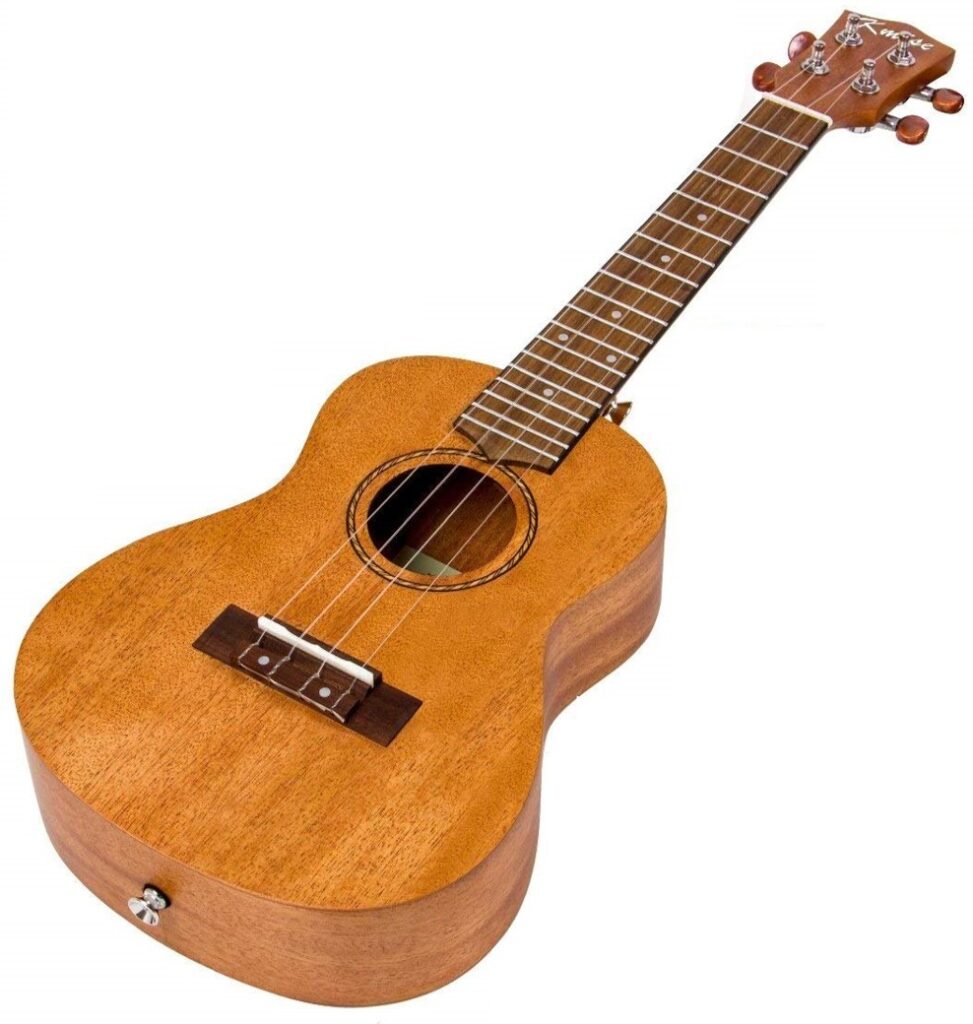 Some players are not satisfied with the narrow fret spacing on soprano ukuleles, and beginners find it a hindrance, especially those with large hands. Fortunately, in our selection we include a tenor sized ukulele that is similar in price to the Kala KA-15S – Soprano, which is the Kmise KMU26T.
At first glance, you will see a ukulele soundboard made entirely from African mahogany. Combine this with the larger tenor form factor, and you'll hear a more resonant sound coming out of the snare with every note you play. Also, the fingerboard is constructed from walnut. This tenor ukulele definitely emphasizes the midrange better than concert ukuleles.
Surprisingly, for a beginner ukulele, this instrument employs 18:1 copper tuners. Aside from corrosion resistance, the gears on the tuning machines keep the strings in tune for years. The ukulele comes with a strap and strap grip pins, a gig bag, a clip-on tuner, D'Addario carbon nylon strings, and a quick start booklet that teaches the basics. Alternatively, you can register your ukulele on the Kmise website to get started with step-by-step lessons.
Pros of the Kmise KMU26T
cheap / affordable
resonant soundboard
high quality mahogany
stable pegs
Accessories included
free lessons
Cons of the Kmise KMU26T
Some fret wires are not well sanded
Overview of the Kmise KMU26T
Another great entry level ukulele you'll want to consider. If you are a beginner with relatively large hands and looking for something in a ukulele that makes you feel comfortable, don't think twice between concert and tenor ukulele, because the Kmise KMU26T ukulele is here to grant you maximum freedom if you plan on shredding the fretboard one day.
You may be interested in knowing about the best cheap electronic drum sets for beginners.
Kmise UK-24 Concert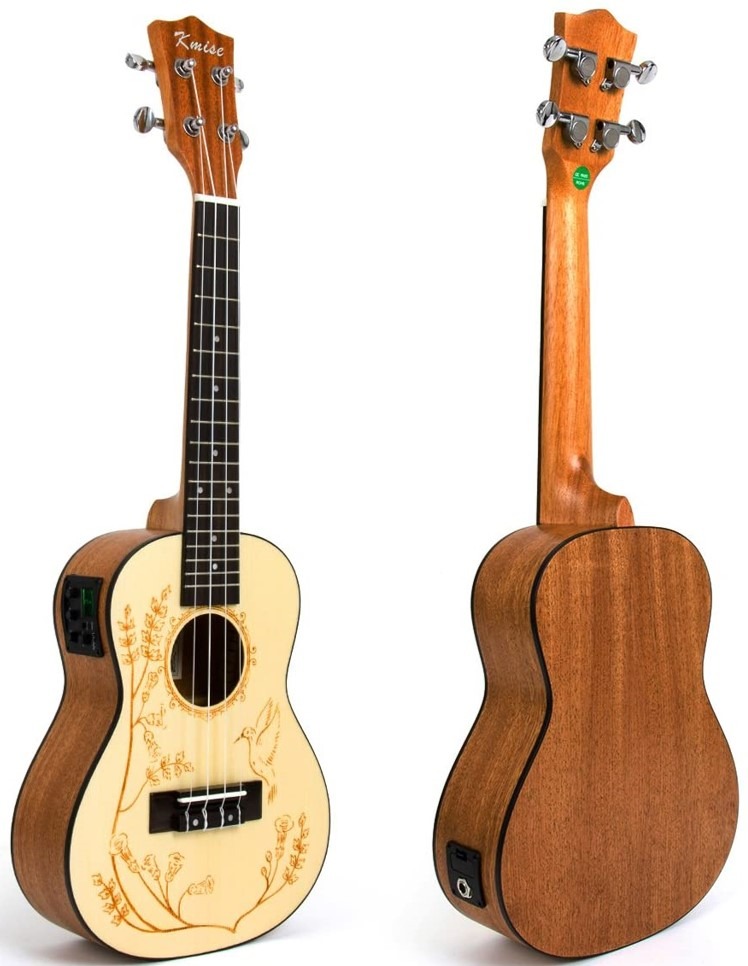 Yes, I would definitely take this concert ukulele for the striking paint job on the soundboard, but there is more behind this ukulele's brilliant craftsmanship. Just take a look at this spruce top: spruce is a brighter tonewood than mahogany, and it puts out a strong treble sound. However, it can allow you to derive different timbres as you subtly change the dynamics of your performance.
Sapele is also an excellent choice for molding the back -bottom- and sides of the Kmise UK-24. This African-derived tonewood is harder than mahogany and increases the durability of these two fragile sections of the ukulele's soundboard. Kmise thinks to reinforce this ukulele with an arched back to increase the amplification of the sound.
The preamp here is pretty minimalistic with 3 EQ functions for treble, mid and bass for tone blending and a built in digital tuner. The pegs are chrome sealed on this ukulele, which means the gears have a chrome cover to preserve their life. This one has no additional accessories.
Pros of the Kmise UK-24
Integrated EQ and tuner
Fine tonewoods with arched back
Elegant visual on the soundboard
Sealed Covered Pins
Precise intonation
Cons of the Kmise UK-24
Pitch can become high pitched
Without accesories
Summary of the Kmise UK-24
With resonant pickups and a simple but on-point preamp, the Kmise UK-24 debunks the misconception that electro-acoustic ukuleles are reserved for virtuosos. Every inch of this ukulele is a testament to Kmise's uncompromising craftsmanship that won't let down beginners.
We recommend that you also read our selection of the best microphones for singing under $100, $200, $300, $500 and $1,000.
Makala MK-B Baritone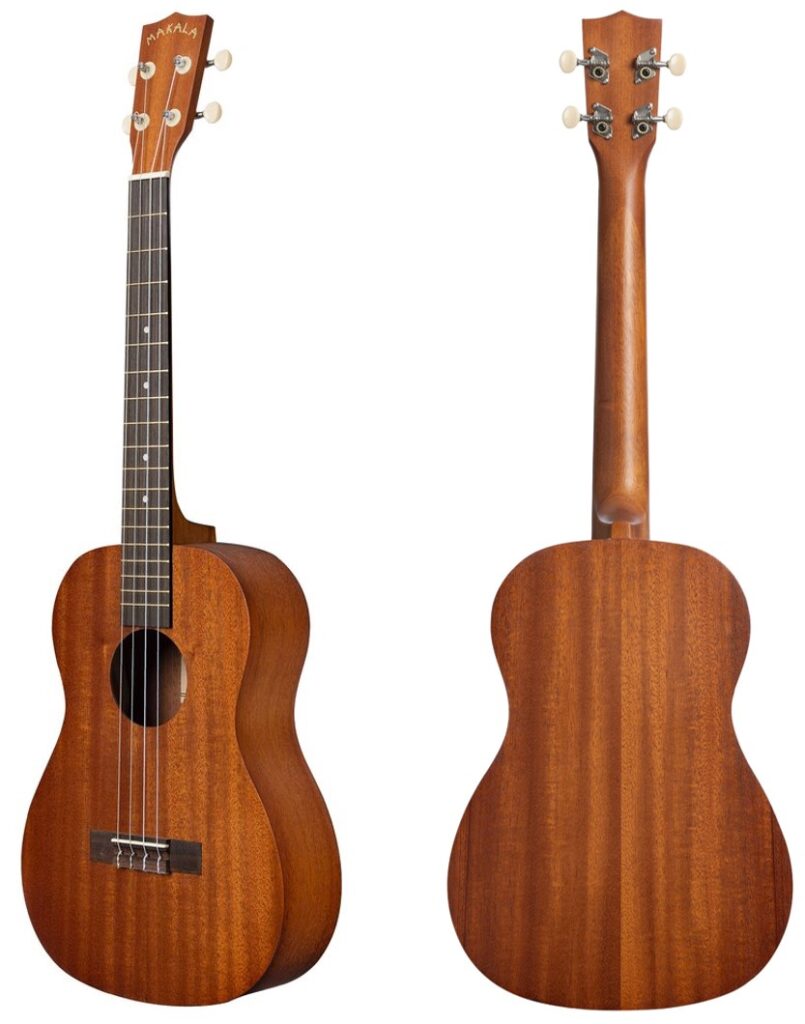 Players who want to get into ukuleles will want to avoid the fretboard of a concert or tenor ukulele. Instead, a baritone ukulele can be a great option to reduce the impact of the size change against the guitar. You'll notice that it looks like a guitar scaled down to ¼ size with standard spacing for all 18 frets. Playing chord shapes in the higher register is much easier on this baritone ukulele.
You could easily guess that Makala is a sub-brand of Kala from the weight of the mahogany body and smooth walnut fingerboard. You can play slides, legatos and pull-offs like a breeze since this ukulele's frets are jumbo. Additionally, the pre-strung nylon strings feature a thicker gauge which helps the soundboard generate a warmer, more massive tone quality.
Another thing that makes this ukulele suitable for beginners who are familiar with the guitar is the tuning. The MK-B has its four strings tuned like those of an acoustic guitar or bass. You'll also feel string tension similar to that of guitars, which helps with techniques that add color to your dynamics, like bending and vibrato.
Unlike ukuleles that drop below concert size, this baritone ukulele has thicker tuners for string retention. However, sometimes it doesn't hold precise pitch very long when you use aggressive strumming. Sometimes tuning needs to be adjusted after each practice session.
Pros of the Makala MK-B
affordable / cheap
warm tone profile
spacious frets
Easier to master techniques
One of the most respected ukulele brands.
Cons of the Makala MK-B
Weak tuning machines
Without accesories
Summary of the Makala MK-B
Suppose you want to experience a guitar-like feel on a ukulele. In that case, the Makala MK-B is your absolute go-to instrument that will make your techniques as vivid as on a guitar. This ukulele combines a warm tone, jumbo frets, and sturdy construction.
You may also be interested in seeing the best electric guitars for beginners.
Makala MK-SD – Soprano
If you are trying to get your child adventurous in the world of music, the Makala MK-SD is the perfect cheap ukulele for beginning children. With great sound, design and size ideal for the small hands of your child or younger brother.
Typical of a beginner ukulele, this children's instrument comes in several different finishes: black, blue, pink, red, and blue. This soprano ukulele has a compact 11-fret fingerboard that children find easy to play during the early stages of learning triads and simple melodies.
Crafted from Agathis, the top of this ukulele produces a warm, emphasized tone similar to that produced by mahogany tops. However, the back and sides are made of a wood-plastic composite, which affects the sound amplification of this instrument. The dolphin-shaped bridge also hints at a reference that kids love: Makala cares about aesthetics here. Additionally, this ukulele ships with a gig bag to complement its portable form factor.
One great thing about this kids ukulele is how Makala crafted the rosewood fingerboard, perfect for toughening up your child's fingertips for the long haul. However, one problem your little one might run into with this ukulele is poor tuning machines, especially since the bridge is made of plastic, not wood.
Pros of the Makala MK-SD
Affordable
Comfortable to hold for children
Agathis top to enhance low tones
Rosewood fingerboard
Cover included
Cons of the Makala MK-SD
Tuning drops frequently
Bottom and sides constructed of wood-plastic composite
Plastic bridge
Overview of the Makala MK-SD
For a long time, the Makala MK-SD has been the door that reveals a world where dreams evoked by music come true. I even think the rosewood fretboard was not chosen arbitrarily, as it helps your child's fingers adjust to a challenging fretboard early on. However, it is the ultimate choice for beginner kids.
You may be interested to know about the best free and paid VST virtual guitar amps.
Other cheap ukulele options for beginners
Our selection is the most limited and direct to make it easier for you to choose the ukulele for you to learn to play. But if you're one of those people who likes to do a lot of research, there are other great models of cheap beginner ukuleles on the market. In fact, there is a wide range.
Other models that you can see are the Kala Ka 15s Donner Concert Ukulele. The Kala Ka-15s is made from mahogany and comes with a complete starter kit with a carrying case, digital tuner and online lessons.
Another good option is the Donner Concert Ukulele, definitely a fan favorite and for good reason. First of all, you can choose the size you want – between 21 and 26 inches – that is, regardless of whether you have big or small hands, you can get one more suitable for your size. The Donner concert ukulele is made from African mahogany and is really well made for this entry level price range.
Accessories that bring the ukuleles for beginners
Also, we can divide the different ukuleles according to the accessories they come with. When choosing a ukulele, most beginners want it to come with accessories like instructional DVDs and a carrying case. But sometimes, more accessories at the same price means lower quality of the instrument. Do not forget that there are hundreds of websites and YouTube videos to learn to play the Ukulele completely free of charge.
Cheap ukulele buying guide for beginners
So those are our best beginner ukuleles, but how do we choose them? And if you want to choose a different instrument than the ones we mentioned, what specifically should you look for? Read on to find out now.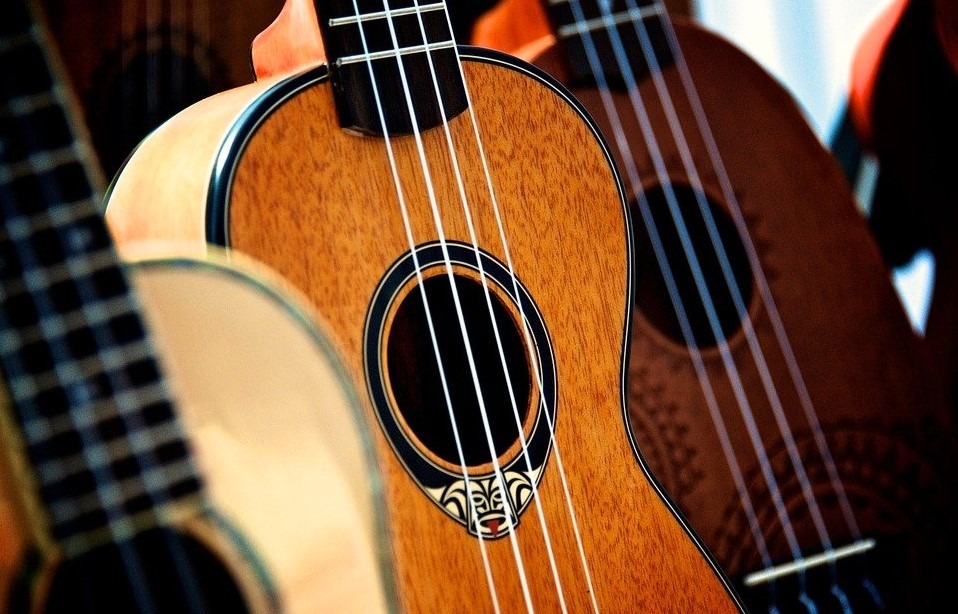 Also, check out the best budget XLR and USB condenser microphones.
Types of Ukuleles
There are several different types of ukulele, basically, they are of different sizes: soprano, tenor, concert and baritone. Each has its distinctive features, and neither is better than the other.
Soprano
Soprano ukuleles are what comes to mind when people imagine standard ukuleles. With a 15-fret fingerboard, sopranos are noted to have a compact design and slimmer frets, making them ideal for children and beginners with smaller hands. However, a drawback of this size is its tuning, which is usually more unstable. The tuning of the strings can be altered after playing a lot.
Concert
The concert size marks the sweet spot in the realm of ukuleles. These ukuleles have larger soundboards that allow the strings to hit efficiently for a richer sound. You get up to 17 frets, giving you great access to the highest register. Unlike soprano strings, concert strings do not go out of tune with incessant bending or strumming.
Tenor
Tenor ukuleles are where the fretboard starts to widen considerably. This gives you the freedom to play more advanced melodies in the future, such as 7th chords, jump strings, and advanced patterns. Due to the heavier form factor, tenor ukulele soundboards excel at emphasizing the dynamics of your melodies, especially with mahogany or spruce tonewoods. It is an excellent option if you will dedicate time to the instrument.
Baritone
The baritone size is at the top of the ukulele hierarchy with the most space between the frets. The larger soundboard and the longer scale length -bridge-to-nut distance- allow more frets to be played. While soprano, tenor, and concert players are tuned to GCEA, baritones adopt a standard guitar tuning of GDBE for a deeper, darker tone profile. For this last reason, we do not recommend these ukuleles for beginners, but if you insist, we leave you with the Makala MK-B option. This last one is the option for guitarists, who already have technique and a change of tuning will not affect them considerably.
You may be interested in our review of MIDI controllers for beginners and professionals.
What to consider when buying a ukulele?
We show you what you should look for when buying a ukulele.
Intonation / Tuning
Intonation refers to how the instrument retains the quality of the tone as it moves down the fretboard. For example, if your E string is finely tuned, then that string's first fret (F) must also be finely tuned.
When you get your ukulele, grab a tuner and test the accuracy of each fretted note up to the 12th fret. On low-quality ukuleles, notes tend to sound flat as you go down to the highest register on a string, which can ruin your performance experience if not caught beforehand.
String action
On ukuleles and any stringed instrument, the action is the height of the strings in reference to the fingerboard. The higher the action, the higher the height and the harder the notes are to play and the more likely you are to accidentally mute the strings when strumming.
Because of this, you should look at the neck from bridge level to determine if the gap is significant. If checked, the bridge may need additional sanding or the neck may be crooked. When choosing your ukulele it is important that you consider this.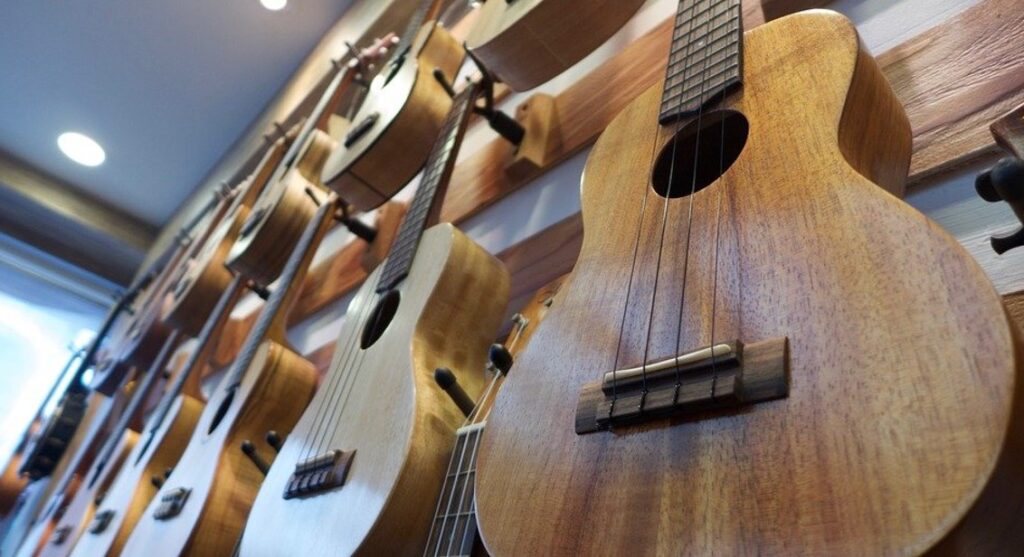 What type of ukulele is best for beginners?
If you are a beginner who is into ukuleles as a hobby, we recommend that you go for soprano ukuleles. These ukuleles are great for playing simple melodies. You'll also find that most beginner ukuleles are concert-sized, as the extra space between the frets allows for more freedom.
On the other hand, if you are interested in advancing, you may want to go for the Tenor or Baritone Ukulele. Here we recommend going to the Tenor, since he shares the tunings with the Soprano and Concerto. On the other hand, the Baritone has a different pitch, so the chords change. Therefore, it is that our recommendation of the Kmise KMU26T: The best tenor ukulele for beginners.
Beginner ukuleles tend to be cheaper than professional ones, in part because they have nylon strings and a different quality of wood. These still give a great sound. While there are differences with each of these options, remember that they are all great options and made by the best ukulele brands. Don't get too caught up in guessing at each feature; probably won't make much of a difference.
Do not miss this selection of the best easy songs to learn on ukulele for beginners.
Can I learn just ukulele?
You can definitely learn to play the ukulele by yourself with the help of some online resources! You can be a great self-taught ukulele player in a couple of days through free online lessons to learn the instrument. YouTube is a great platform for free courses.
What are the techniques that make me a good ukulele player?
If you want to be a ukulele player, you must learn to play nail strum patterns, mono strums which is strumming one string while muting the others, string stretching, octaves and string gliding. A consensus among musicians is that you should learn them in context.
Best ukulele for beginners, final thoughts
Starting to play the ukulele is very rewarding, since it is a very friendly instrument. Thus, you will be able to see quick results after each practice session. Therefore, it is a beautiful way to go, music is life. The important thing is that you start playing. None of these are going to be the difference between successfully playing the ukulele and not being able to learn. If you're still in doubt, check out the categories we've given, for example, best for guitarists, best for kids, and so on. If none of them immediately stand out as the perfect fit for you, go for the 'best overall'. The Kala KA-CE is everyone's choice, the most versatile and probably the best of the cheap beginner ukuleles.
Before saying goodbye, we leave you this great video about the Ukulele:
Do not miss other GEARanking guides and reviews.