Best musical keyboards and digital pianos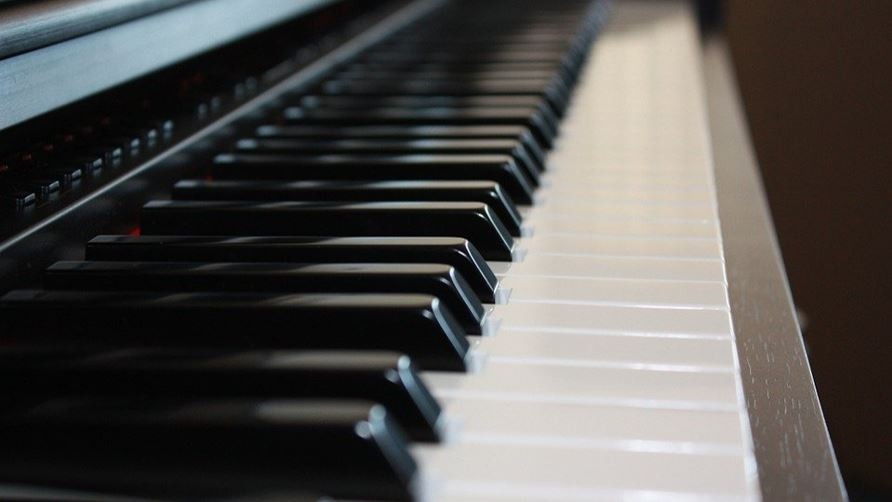 The best musical keyboards and digital pianos on the market in the entire price range: expensive and cheap, features, pros and cons of each of the options.
Musical keyboards and digital pianos
We have prepared the selection of the best musical keyboards and digital pianos in 2021 on the market. Our review covers all aspects of these musical keyboards and digital pianos, from how they feel and sound to value for money. In this article, we'll explain why we chose them and help you choose the perfect keyboard piano for you.
Perhaps what you are really looking for is to have a MIDI controller, in that case visit our guide to the MIDI controller keyboards for beginners and professionals.
List of the best musical keyboards and digital pianos:
Roland RD-2000
Yamaha CP88
Casio PX-770
North Stage 3
Korg Grandstage 88
Roland RD-88
Casio PX-S3000
Casio CDP-S350
Roland FP-30
Yamaha YDP-103
Yamaha DGX-660
Alesis Recital Pro
Roland RD-2000

The Roland RD-2000 is the ultimate keyboard piano for performers and the highest rated on our list. Check all the boxes; It sounds and feels great and offers the perfect blend of modern and vintage features. The control it provides over onboard parameters, as well as your DAW or virtual instruments, is second to none. Plus, the fact that it integrates so well with other sound sources also makes it infinitely expandable. The RD-2000 is one of the best musical keyboards we've seen.
Roland RD-2000 Pros
very authentic feel
Extremely versatile in live use
Integrates well with 3rd party DAW/software
Zero latency processor
SuperNATURAL sound engines
V-Piano
Roland RD-2000 Cons
Not so suitable for beginners
The RD-2000 is the most advanced in a long line of Roland RD keyboard pianos. According to Roland, it is his best musical keyboard in terms of realistic playing feel so far. Roland's PHA-50 Progressive Hammer Action Keyboard is a hybrid of wood and plastic, with a synthetic ivory feel. The keys have a fantastic action and a realistic weight that allows for maximum expression.
The most important piano sounds come from two independent sound engines: SuperNATURAL Engine and V-Piano technology. The SuperNATURAL engine powers select acoustic piano voices, electric pianos, and over 1,100 other sounds with a maximum polyphony of 128 notes. Roland's V-Piano engine delivers beautiful grand piano voices with full polyphony. It's worth noting that the sounds include recreations of two classic Roland electric pianos, the RD-1000 and the MKS-20.
Roland also went so far as to recreate some classic analog effects, like the Boss CE-1 Chorus and the Roland Dimension D. Onboard effects include reverb, delay, tremolo, amp simulations, a 3-band compressor, and a 5-band EQ.
The RD-2000 gives you ultimate control over your performance through eight assignable dynamic encoders and nine faders. There are eight zones for layering sounds that are controlled by the faders. So you can easily adjust massive sounds on the fly, and layered sounds can come from the RD-2000 or from external sources, even virtual instruments.
It also features a high-quality 24-bit audio interface, so you get the full quality of your external sounds. There are four multi-function pedal inputs and 100 user memories for saving custom patches. You can even record your performance -2 channels- and playback as high-quality WAV.
Also visit our guide for the MIDI Controller keyboards for making beats.
Yamaha CP88

The CP88 is probably the best keyboard for vintage sounds. Thus, it is one of our favorites for its authenticity, so it should be among the best rated keyboard pianos. Yamaha has done a fantastic job of creating a classic sounding instrument that meets the demands of a modern player. The keys feel very good, although perhaps a bit lighter than expected. It sounds amazing and the vintage effects are lovely.
Yamaha CP88 Pros
amazing grand pianos
high quality voices
Simple user interface
Virtual circuit modeling
Perfect sound switching
Realistic wooden keys
Yamaha CP88 Cons
The vintage sound and retro look is not for everyone.
The Yamaha CP88 takes you back to the 1970s, the era of the heyday of musical keyboards. Featuring Yamaha's NW-GH keyboard, this keyboard piano has an ultra-realistic feel. NW stands for Natural Wood, that is natural wood keys. The sound comes from the AWM2 tone generator with 128-note polyphony.
The voices are divided into three sections: pianos, electric pianos, and subs. The Sub section contains organs, strings, synths, and a variety of other sounds. There are 10 acoustic pianos with three great models, the Yamaha CFX, S700 and a Bösendorfer Imperial 290. It also has some great upright pianos. Each section has its own dedicated effects and controls. Electric pianos feature some more vintage tones, the CP80 and 75 Rd.
Yamaha's virtual circuit modeling provides stunning vintage effects. It mimics the behavior of high-end studio signal processors, modeling the circuitry in incredible detail. These emulated vintage effects are one of the best things about the CP88. There are also some master effects with dedicated controls, such as delay, EQ, and reverb.
It has some useful performance features, notably Seamless Sound Switching. It allows you to change the sound while holding down a note of the previous sound and it will not pop out. The CP88 has a nice LCD screen and all the controls are robust and a bit retro. Add a 2-channel USB audio/MIDI interface, and this keyboard piano is a studio and stage powerhouse.
We recommend that you read our article on how to create Beats online for free with Beatmaker software and apps.
Casio Privia PX-770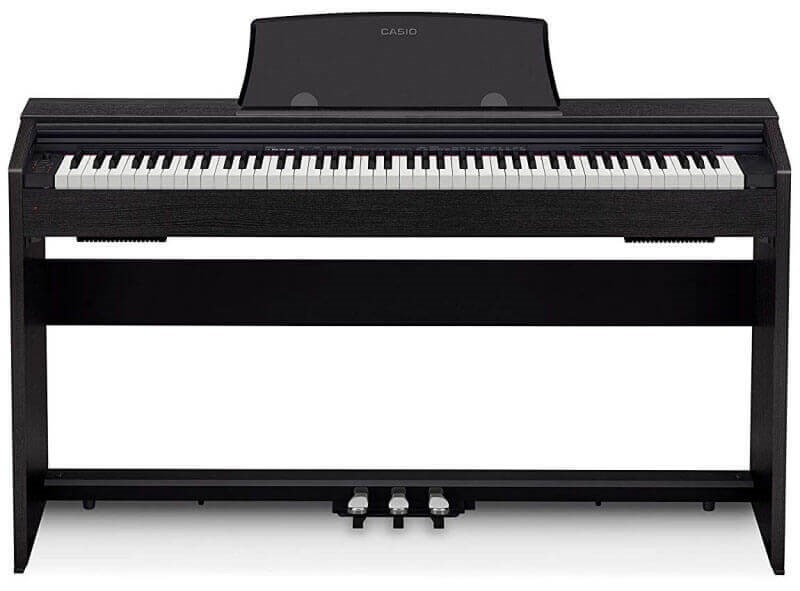 The PX-770 is one of the best digital pianos for its price, ideal for home use. It's priced low enough to justify buying as a beginner, and the piano sound is more than enough for a pro. The ebony/ivory touch keys are a really nice touch and create a more realistic gaming experience.
Casio PX-770 Pros
AiR sound source
Realistic hammer action keys
duo mode
at a reasonable price
midi recorder
attractive cabinet
Casio PX-770 Cons
Other voices not as high quality as piano tones
If you go to a music store to see the best digital pianos, a Casio Privia is never far away. You also won't find digital piano reviews that don't mention the Privia lineup. They range from beginner options to very high-end pianos; we are before the Privia PX-770.
The PX-770 has scale-weighted hammer-action keys, meaning they get lighter as you go up in pitch – 128-note maximum polyphony. The keys have a simulated ebony and ivory feel, and are matched by weight; they feel very realistic.
There are 19 voices in total, and that's more than respectable for a digital piano. However, it is the sound of the grand piano and comes from Casio's AiR sound source. Impressive concert grand pianos with four dynamic levels were sampled to produce a highly expressive voice for the PX-770. Built-in chorus and reverb effects can make the piano sound even richer.
The other thing you want from a home digital piano is some tutorial features. Casio's PX-770 comes with 60 backing songs and a 2-track MIDI recorder to capture your progress. It also features a duo mode for student/teacher lessons, creating two equal keyboard zones. The build quality of the PX-770 is very high, it feels solid and the keyboard deck moves well. It's an instrument that will look good anywhere in the house, which is important for a digital piano.
Also, we recommend you to read the best DAWs for recording, mixing, editing and mastering music and audio.
North Stage 3

Many professionals use the Nord Stage 3 and not everyone can be wrong. It's a really fantastic instrument, from the sound to the build quality. It is perhaps the best stage piano/synth hybrid. The keyboard action won't be to everyone's liking, but that and the high price are the only drawbacks. If you have the money and need a serious, professional stage piano, the Nord Stage 3 might be the one for you.
Nord Stage 3 Pros
Very high quality sounds
Has a dedicated section for each group of voices
Organ tone control knobs
Authentic digital effects
Nord Stage 3 Cons
Very expensive
Keyboard action doesn't suit everyone
Nord keyboards are the must-have instrument for many professional musicians. The Nord Stage 3 is the flagship piano in the range and the most expensive on our list. The Stage 3 has fully weighted keys with aftertouch. The keyboard action feels a bit different than other high-end stage pianos, and is a compromise between a realistic piano feel and a smooth synth/organ action. The maximum polyphony is 120 notes for piano and 34 notes for synthesizers.
In the sounds, and that's where the Nord Stage 3 really shines. There are around 400 presets divided into three unique sound engines; piano, synthesizer and organ. Countless professional musicians prefer Nord's piano sound; it's rich and has real depth. The synth sounds come from the Lead A1 engine, so whether it's leads, pads, or basses, they sound amazing. As for the organ engine, it is surprisingly good, both in its quality and in its choice of instruments.
Being a true performer's keyboard, the Stage 3 has a wide range of effects ready to play. Built-in effects include speaker simulations for organ, phaser, chorus, ring mod, and most other sounds you can think of.
Nord keyboards can seem a bit intimidating to a beginner with buttons everywhere. However, the design is actually very user friendly; each section is nice and clear/defined. The Nord Stage 3 integrates seamlessly with external MIDI gear, just like it's part of the keyboard.
In addition, we leave you to download the Camel Crusher VST Plugin for free.
Korg Grandstage 88

If you want a dedicated stage piano, you'll be hard-pressed to find a better one than the Grandstage 88. It's one of the best digital stage pianos on the market and has the most realistic feel in our top 12. If it's a digital piano you're after, This is the best option.
Despite having around 500 high-quality preset sounds, it's the piano voices and key action that make it worth buying. For a jazz or classical pianist, it is one of the best keyboard pianos out there. If you play in a band that requires a wide range of sounds, you'll get better value for money elsewhere.
Korg Grandstage 88 Pros
Simple user interface
Dedicated dynamics section
Gorgeous piano sounds
Real Hammer Action Keyboard
Korg Grandstage 88 Cons
Best suited to a very specific type of player: Jazz/Classical
Korg's Grandstage 88 is the perfect example of what a stage piano should feel like. That beautiful feel is mainly due to Korg's RH3 -Real Hammer-Action- keybed. The progressive weight and responsiveness are hard to beat unless you opt for a real piano. It has a maximum polyphony of 128 notes.
The Grandstage 88 is first and foremost a piano, but it features seven individual sound engines. Sound engines include the SGX-2 acoustic piano engine, the EP-1, the VOX organ, and the AL-1 analog modeling engine. It 's surprisingly versatile for an instrument often thought of as nothing more than a great sounding piano.
Overall sound quality is exceptional, and the combination of the SGX-2 piano engine and true hammer action keys creates one of the most expressive stage pianos you'll ever play. VOX organs are exceptionally authentic, although the weight of the keys is not perfect for organ playing.
You can switch from one sound to another without any interruption with Korg's smooth sound transition feature. The same feature also works with realtime effects. There aren't many onboard effects, but the 3-band EQ, delay, and reverb all have dedicated controls for easy adjustments.
Sounds can be layered or split with 64 favorite memories available to instantly store and recall your most used sounds. It's a pretty heavy unit, but it comes with a solid custom Grandstage stand that looks great.
Also, you might be interested in our review of the best affordable XLR and USB condenser microphones.
Roland RD-88

The RD-88 is an excellent addition to the stellar RD series. It is a lightweight and portable stage piano with very high quality sounds. If you want something a little lighter to play without losing quality, it's the RD-88. However, if you're buying it because you can't afford the RD-2000 just yet, wait and save. The RD-88 is not meant to compete at that level; it is meant to play to its strengths, which are sound quality and portability.
Roland RD-88 Pros
light and portable
Lots of presets
Seamless integration with DAWs, outboard gear, and virtual instruments
Cheap for a RD piano.
Roland RD-88 Cons
Will never match the RD-2000
Roland's RD range has been around forever, and the RD-88 is the latest addition. It's a somewhat streamlined version that's meant to make life on the road a little easier. The strongest argument for choosing the RD-88 over something like the RD-2000 is that it is much lighter and much cheaper. Although much lighter, it still comes with a lovely progressive hammer action keybed with escapement. It also has ivory touch keys that are very pleasant to play.
Sounds are generated by Roland's ZEN-Core sound generator and SuperNATURAL sound engine. Together, the sound engines have over 3,000 presets, which is crazy, in a good way. You know what you get from the SuperNATURAL sound engine; outstanding acoustic and electric pianos. Like the RD-2000, it integrates nicely with outboard gear and even soft synths.
The RD-88 can be divided into three zones, and unique voice and effects parameters can be applied to each zone. Zonal effects include 90 types of multi-effects, equalizer, and tone color. There are effects that can be applied by voice instead of by zone. For example, if you have a sound present in multiple zones with a master reverb, but you only want to chorus zone one.
It's a fantastic keyboard controller, whether it's for outboard gear or your DAW. It comes with eight assignable knobs and two assignable wheels.
We recommend that you read this guide on how to build a professional Home Studio.
Casio PX-S3000

The Casio PX-S3000 is the best portable keyboard piano. For an instrument so thin that it weighs less than 25 pounds or 11 kilos, the scaled hammer action keys are amazing. It looks amazing and is super portable. Although very good, the downside is that for close to $900, you can probably find a better sounding piano. But it won't come with the same feel in a lightweight package, so it depends on what you value most.
Casio PX-S3000 Pros
extremely portable
Very nice piano tone
Incredible key action for such a slim instrument
Bluetooth and USB connectivity
A lot of voices
Casio PX-S3000 Cons
There are better piano sounds for the same price
The PX-S3000 keyboard marks the biggest advance in technology that the Casio Privia range has seen since the original. The PX-S3000 is the world's thinnest keyboard piano and it looks great. Incredibly, due to its slim design, the PX-S3000 has the most advanced hammer action keys in the entire range. Casio's Smart Scaled Hammer Action simulates a unique tactile response for each individual key. Some of the more expensive stage pianos available cannot boast as expressive a key action or keybed.
The advanced AiR sound source offers a very rich and expressive tone that nicely complements the weighted keys. To our surprise, the PX-S3000 comes with 700 built-in voices. Like any keyboard with so many voices, there will be many that you never use or just don't like. But, we have to say, for the most part, these voices are of such a high standard. Voices can be split or layered to create custom patches.
Despite being so slim, the PX-S3000 houses a powerful stereo speaker system so you can play without an amp. The speakers sound great with the 200 built-in rhythms, or you can stream your own via Bluetooth from a mobile device.
It is the perfect companion to Casio's Chordana Play app which has a lot of tutorial content. He has a nice Duet mode to create an even split for students and teachers if he's taking lessons. The elegant case is finished in a gloss black that is befitting a concert grand piano; It is spectacular.
Also, you may be interested in this guide to the 10 best audio interfaces for your Home Studio.
Casio CDP-S350

The Casio CDP-S350 is an all-rounder that offers excellent value for money. Let's be clear, it doesn't sound as good as the higher-end options on the list, but it's around 80% cheaper in some cases. Ivory-touch keys, versatile arpeggiator, quality piano tones, and versatile recorder are all unexpected at this price. It's great for beginners and even professionals who want a lightweight piano for practice or performance.
Casio CDP-S350 Pros
Scaled hammer action keys
light and portable
built-in speakers
on board lessons
many sounds
Economic
good piano voices
Casio CDP-S350 Cons
Advanced pianists or keyboardists may require better sound
The Casio CDP-S350 is a bit of an unexpected choice. At a glance, you'd be forgiven for assuming it's a cheap MIDI controller, but it's a legitimate compact digital piano. It comes with scaled hammer action keys with a simulated ebony/ivory feel. Right away you feel a level of quality you wouldn't expect to see under $600. It comes with a massive 700 sounds and 64-note max polyphony. It's fair to say that not all 700 voices will blow your mind, but the sound quality is very strong where it matters. The sounds of the grand piano are similar to something you'd expect from a more expensive Casio digital piano.
It has 200 rhythms with various auto accompaniment styles that make for decent backing tracks. The built-in arpeggiator has 100 types/modes, and that's where the CDP-S350 gets most interesting. Features like the arpeggiator and a built-in 6-track recorder make this keyboard a great platform for songwriting, too. It even has 50 piano lessons on board and access to the Chordana Play app for beginners.
The CDP-S350 is very thin and light and has a small screen, but the design is otherwise minimal. That makes it easy to use and easy to move around. Unlike most stage pianos, it has built-in speakers and can be powered by batteries, making it a piano that can be played anywhere.
You might be interested in our review of the best cheap electronic drums for beginners.
Roland FP-30

Roland's FP-30 falls somewhere between the ideal keyboard piano for beginners and an affordable option for a professional. It offers the best tone at the cheapest price. As a beginner instrument, the price is good; It has some basic practice features and great sounds. For a pro, the biggest benefit is the SuperNATURAL piano sound that's good enough for any stage. It is light, easy to transport and the built-in speakers are of very good quality.
Roland FP-30 Pros
SuperNATURAL piano sound
light and portable
relatively cheap
Bluetooth
Roland FP-30 Cons
Roland's FP-30 is another relatively cheap keyboard piano for our list. The FP range has been a favorite with music students for a few years. The FP-30 has progressive hammer action keys with a maximum polyphony of 128 notes. Its PHA-4 keybed or key action isn't on the level of something like the RD-2000, but it offers great feel in a lightweight instrument.
The best thing about the FP-30 is undoubtedly the SuperNATURAL piano sound. It's the same piano tone that can be heard on much more expensive Roland pianos. Roland's SuperNATURAL piano is rich, expressive and a real joy to find at this price. There are 35 voices in total of different quality but the electric pianos, the strings and the organs stand out.
It has eight backing rhythms and 30 songs on board. You can play more through the built-in speakers via USB or Bluetooth and mobile devices or apps. A strong point of the FP-30 is the quality of the speakers; doesn't lose the richness of that SuperNATURAL piano through the built-in speakers.
Roland added a built-in MIDI recorder so you can capture your ideas. It also has a dedicated USB-to-device memory slot for transferring your recordings. If you're a student, features like Twin Piano that create two split identical piano ranges are great. There are a few other dual and split keyboard modes for general performance use.
We recommend that you listen to the best electronic and alternative music powerful bass songs.
Yamaha Arius YDP-103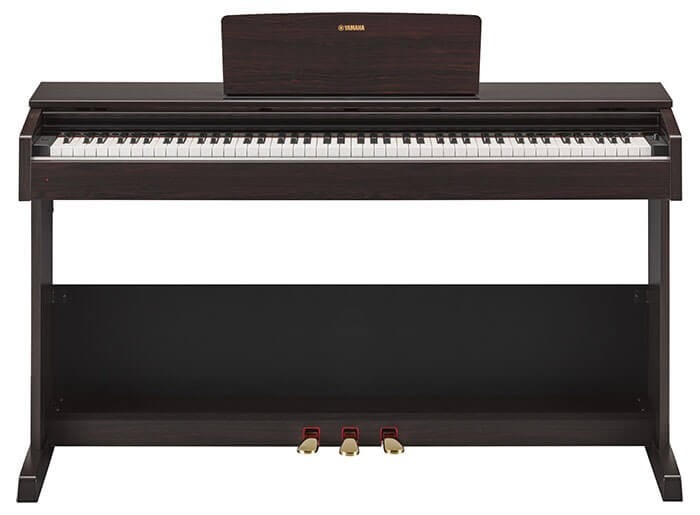 While the Yamaha YDP-103 can be considered a budget Arius, it is one of the best sounding pianos at this price. When you cut the cost, the quality will go down somewhere, in most cases, but Yamaha made the right choices with this piano. The core qualities, feel and sound are still excellent, especially for a beginner. It lacks the versatility and finesse of more expensive models, but it delivers what counts and looks great in any room.
Yamaha YDP-103 Pros
Value for money
Nice hammer action keys
Authentic piano sound
attractive cabinet
Yamaha YDP-103 Cons
The Yamaha Arius range is considered to be one of the best digital pianos for home use. Our pick is the YDP-103, at the lower end of the Arius price range.
At first glance, the YDP-103 is a lovely looking digital piano in a rosewood cabinet. It comes with Yamaha's standard graded hammer keybed/key action and a maximum polyphony of 64 notes. The cabinet has a built-in 3-pedal unit for damper, sostenuto, and soft, much like a real piano. The damper pedal allows for half pedaling to give you control over subtle dynamics.
When it comes to sound quality, Yamaha's AWM sampling delivers a lovely grand piano sound. There are 10 voices in total, not all as good as the main piano. However, the voices can be layered to create interesting new sounds, which is a nice touch. The piano tone is rich and detailed, and some depth can be added through any of the four built-in reverb types.

It has 10 demo songs and 10 piano preset songs, but you can stream anything through the built-in speakers via USB and a mobile device. Duet mode allows you to split the keyboard into two equal ranges for student/teacher practice. There is also a digital piano controller app for iOS.
If you love the sound and feel of the Arius, but have a little more money to spend, the YDP-184 is one of the best home digital pianos around.
You may also be interested in our review on the best cheap basses for beginners.
Yamaha DGX-660

The Yamaha DGX-660 would not be our first choice as a stage piano or home digital piano. But, if you're an aspiring singer-songwriter, it could be the ideal device to show off your creativity. Yamaha's Pure CF sound engine is fantastic, the keyboard action feels good, but it all depends on the features. If you love the mic input, 6-track recorder, and score display, then this is the one for you.
Yamaha DGX-660 Pros
6 track recorder
Pure CF sound engine: iconic sounds
Realistic hammer action keys
Support included
Portable if necessary
microphone input
Yamaha DGX-660 Cons
If you are not a composer, some features may not interest you
The DGX-660 is a bit tricky on our list because it has some features that most others don't. It is an 88-key arranger keyboard with graded hammer action keys. It can have two purposes; such as a portable stage piano or a home digital piano with a wooden stand. The DGX-660 has a maximum polyphony of 192 notes, which speaks highly of its piano credentials.
In total, there are 554 voices and 205 rhythm styles. If we focus on the piano sound, it comes from Yamaha's Pure CF sound engine, and it's beautiful. Yamaha sampled their impressive CFIIIS 9ft concert grand with incredible precision. The signature piano tone carries real weight; offers a wide range of dynamics and expression.
If you're an aspiring singer-songwriter, you'll love the DGX-660. He has a microphone input so he can sing along as he plays through the built-in speakers. You also get a 6-track recorder that lets you take an idea from scratch to a full demo track. Once you have your demo ready, you can save it directly to a USB drive.
Beyond USB, it is possible to transmit audio/MIDI over Wi-Fi, although an optional adapter is needed. As a keyboard arranger, the LCD screen is more functional than the average keyboard piano. The Score Display function shows MIDI notation and scrolls as it plays. The Yamaha DGX-660 is definitely an option.
Be sure to check out our guide to the best cheap ukuleles for beginners.
Alesis Recital Pro

The Alesis Recital Pro is an exceptional keyboard piano for under $400, the best value for money. It has some flaws like non-piano sounds are not good or weighted keys are not progressive. You have to think about what you get for the money. Could you find a better sounding keyboard and grand piano for under $400? Unlikely. The Recital Pro is the best digital keyboard piano for its price.
Alesis Recital Pros
Very good piano sound
Cheap
Portable
Runs on batteries -or AC-
Fully weighted hammer action keys
Alesis Recital Pro Cons
Non-piano sounds aren't great
The Alesis Recital Pro is an entry level keyboard piano that offers incredible value for money. It has fully weighted hammer action keys and a maximum polyphony of 128 notes. The hammer action keys are not progressive, so all the keys have the same weight, and that's not ideal. However, for less than $400, it's above average!
There are 12 voices in total; The six main sound types each have two variations. Sounds include acoustic pianos, electric pianos, synths, strings, and organs. Within a few notes, it's clear that the overall sound quality isn't going to challenge any high-end stage piano. However, I tend to focus mainly on acoustic pianos for this type of instrument, and they are very good.
The amazing thing about piano sounds is that even with classical or jazz playing, they don't get muddy like they do with most cheaper keyboards. Sounds can be split or layered, and these functions are a simple one-button process. This piano keyboard also has some built-in effects, including modulation, which can help make non-piano sounds more interesting.
It is ideal for beginners taking lessons using the keyboard's equal split function. This keyboard has a basic recorder built in so you can listen through the 20w speakers or with headphones. The Recital Pro looks a bit bulky, but it's fairly lightweight and can run on batteries so you can play on the go.
Also, you can see our review of the best cheap acoustic guitars for beginners.
How do we choose the musical keyboard or digital piano?
Different instruments have different values, depending on the pianist or keyboardist. Some players only focus on the sound, others on the feel of playing them, and for others, it's mostly about the price. We've chosen 12 exceptional musical keyboards and digital pianos that we think represent a just right balance of sound, feel, and value for money. Our last pick could be your first pick. We've provided some great options to help you choose the one that best suits your needs.
As always, there are no bad picks in our top 12. Every digital stage keyboard and digital piano we pick has something to offer. Some are better suited to advanced pianists or keyboardists and those with a larger budget. Other musical instruments are ideal for beginners with less money to spend. The important thing is that you focus on the qualities you need most from the instrument and spend your money wisely. These are the best musical keyboards and digital pianos in 2021 from GEARanking.
Other articles that might interest you: