Best Cheap Acoustic Guitars for Beginners
The best cheap acoustic guitars for beginner guitarists: the best value for money for different budgets.
Good quality cheap acoustic guitars
A few years ago, getting good quality beginner guitars was difficult. There were cheap acoustic guitars, but they left a lot to be desired. Leading brands such as Fender, Gibson, and others, have expanded their range of models and added excellent musical instruments at very low prices. In large part, this is due to the great experience Chinese, Korean and other Asian electric and acoustic guitar manufacturers have gained.
You may be interested in reading the list of the rarest and most desired guitars in the world.
How much is a decent cheap acoustic guitar?
You can find very cheap acoustic guitars as early as $50. However, the quality of these instruments can be very poor. We recommend that if you want to invest your money well, at least look for guitars above $190 like the ones we show you in this GEARanking guide. It is still a low budget, but it will ensure you have a guitar of minimal quality and that will last you at least in your first years of learning.
What to consider when buying an acoustic guitar?
The key features to consider when buying an acoustic guitar are:
the sound or tone
build quality and durability
Aesthetics and appearance of the guitar
If you're a novice guitarist, it can be hard to know which affordable acoustic guitar models offer these three important features and which ones don't. For this reason, GEARanking is dedicated to making the best Ranking of Musical Equipment.
In this guide, we'll show you the cheap acoustic guitars we've tested and which ones offer the best value for money.
At the end of our list of the best cheap acoustic guitars for beginners, we've included a buyer's guide. In it you will find the best tips to help you in your process of buying your first cheap acoustic guitar. Also, we answer all the most frequently asked questions that a budding acoustic guitarist might have about this wonderful instrument.
To better understand the musical instrument and make a better choice, we suggest you read the explained guitar parts and their importance.
What is the best acoustic guitar for the money?
Top 3 recommendations from our team:
Yamaha FG830 – The Best Acoustic Guitar for Beginners
We all agree that the Yamaha is a guitar not only perfect for beginner guitarists, but also for intermediate guitarists and more. It's a cheap guitar that has pretty much all the features of a high-end guitar. It uses great tonewoods and has aesthetic details that make it stand out above the rest.
Fender FA-100 – The best guitar for tight budgets
If you are looking to spend as little as possible, the price of the Fender FA-100. With a price of only $120 you will get a decent quality guitar and accessory like bag, strap and guitar tuner. This cheap acoustic guitar is ideal to start playing the guitar without investing too much money.
Little Martin LXK2 – Best Kids or Travel Acoustic Guitar
For those guitarists looking for a light and transportable instrument, the Martin LXK2 is the option. Also, the Little Martin is the ideal cheap acoustic guitar for beginner guitarists with small hands, for teenagers and children. Martin is one of the best acoustic guitar manufacturers, you can't go wrong buying one of their instruments.
Our ranking of the best cheap acoustic guitars
Yamaha FG830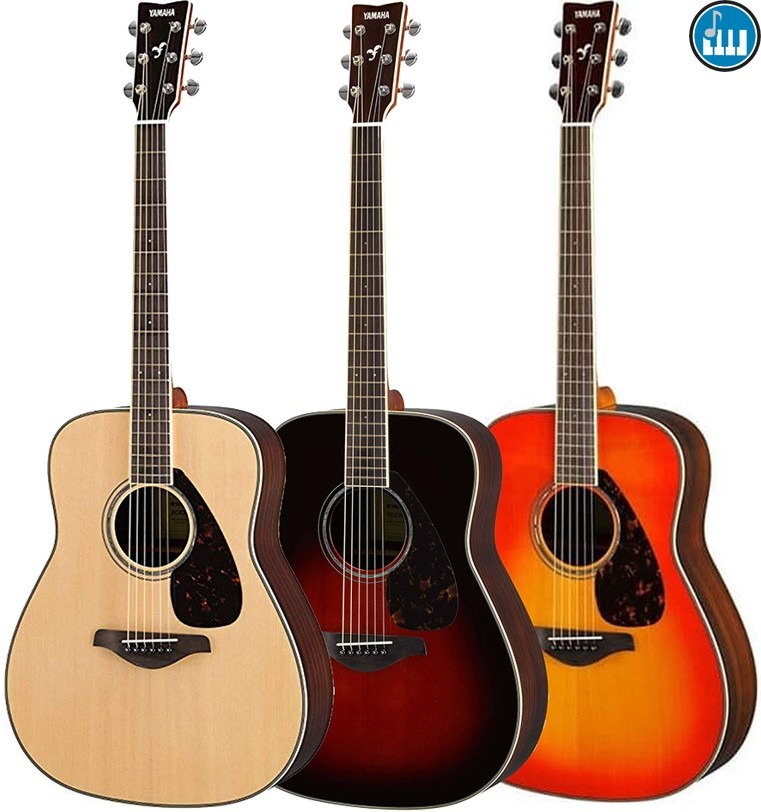 Yamaha FG830 Price: $339 (at time of writing Guitar Center and Sweetwater had it on sale) / £359 / €444
Advantages of the Yamaha FG830
Solid sitka spruce top
Excellent tonewoods
Yamaha build quality
Affordable price
General opinion about the Yamaha FG830
The FG830 acoustic guitar is a great entry level model made by Yamaha, one of the best brands for affordable musical instruments. This guitar is built with excellent tonewoods that give it a classic, traditional sound. In addition, the scalloped reinforcement that allows greater resonance and excellent Sustain is surprising. Like everything Yamaha offers, it's a great acoustic guitar that offers excellent value for money.
Description and characteristics of the Yamaha FG830
Yamaha is one of the most reputable manufacturers for its instruments for beginning and intermediate guitar students. The Yamaha FG830 is an example of excellent value for money. The FG830 is a dreadnought type acoustic folk guitar of excellent quality and at a super convenient price.
The guitars in this Yamaha series stand out for working very well with medium to low notes. Yamaha R&D engineers designed one of the best bracing patterns on the market. This product features a scalloped bracing pattern, which enhances durability and also contributes to the beautiful natural sound of the guitar. This guitar delivers rich nuanced sounds and the great Sustain it offers. The body has a great depth to offer a powerful sound.
It has a Nato wood neck, also known as oriental mahogany, and a rosewood fingerboard. The back and sides of the body are also made of rosewood. In addition, the guitar's solid top is made of Sitka spruce. One of the best woods for guitar tops. Thus, the tonewoods with which this beautiful acoustic guitar is built, give it a classic and traditional sound.
Also, the guitar has an adjustable tensioner, to correct the curvature of the neck. The guitar pegs are die-cast. It is available in six colors and the mouth has an abalone inlay. It's a really beautiful guitar, both in terms of looks and sound.
You may also be interested in knowing about the best cheap ukuleles for beginners.
Epiphone Songmaker DR-100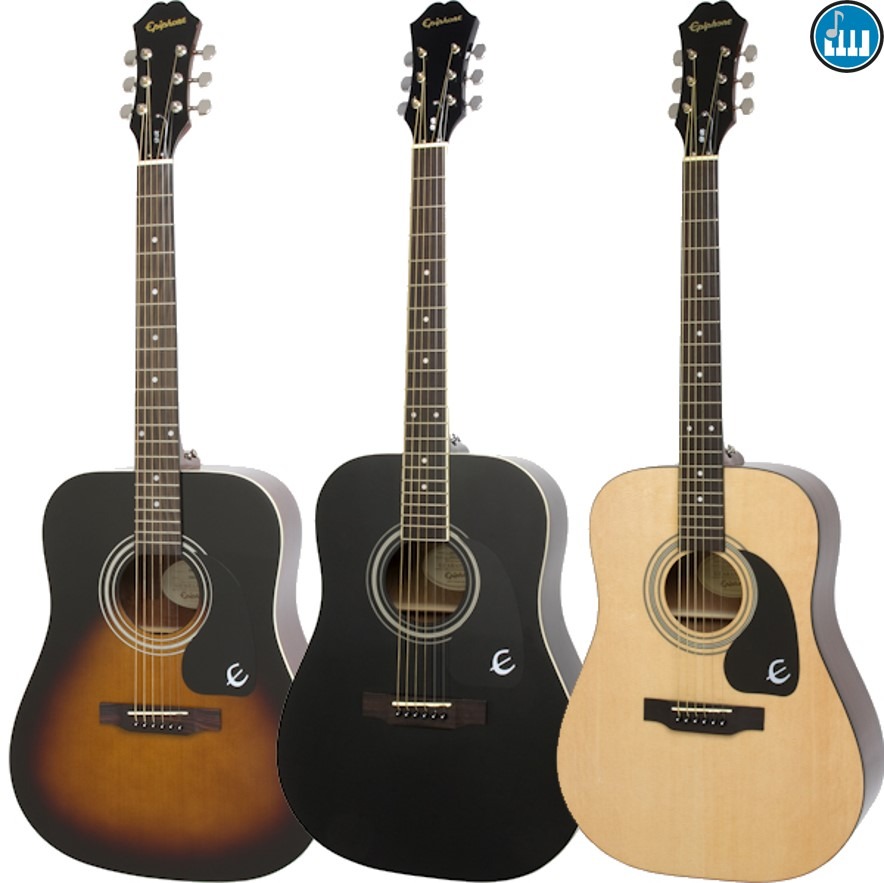 Epiphone DR-100 price: $169 / £126 / €149
Advantages of the Epiphone DR-100
Very cheap guitar
With balanced tone
Good build quality
General opinion about the Epiphone DR-100
The DR-100 acoustic guitar features a warm tone. Despite being made of laminated wood, it has a good sound. Also, its price is excellent.
Description and features of the Epiphone Songmaker DR-100
This acoustic guitar from Epiphone, Gibson's second brand, intended for budding guitarists. Epiphone is perhaps best known for its inexpensive models of Gibson acoustic guitars. It has quality products and classic and traditional specifications of one of the most traditional brands of guitars.
The Epiphone Songmaker DR-100 is a Dreadnought and is a full 25.5″ scale. In terms of materials, the Songmaker DR-100 guitar features laminated spruce woods for the soundboard top, sides and back of the Asian mahogany guitar body. The neck of the guitar is made of Asian mahogany and a rosewood fingerboard.
It comes in three finishes, which are Natural, Vintage, and Sunburst. This guitar comes with a set of light steel strings. The action is low, which suits a beginner very well. There is also no noticeable fret buzz. Overall, it's a great, affordable instrument made by Epiphone, which is a trusted brand.
Also, you might be interested in our analysis of the best basses to learn to play.
Fender FA-100
Fender FA-100 Price: $119 / £99 / €109
Advantages of the Fender FA-100
Unbeatable price
Bright and clear tone
20 frets and scale length 25.3
Comes with case, strap and guitar tuner
General opinion about the Fender FA-100
The Fender FA-100 is the best acoustic for those looking for low price, brand and quality in our opinion. Part of a pack that includes accessories such as gig bag, clip-on guitar tuner and strap, it offers exceptional tone for the money, plus it's built to last. For a beginner, it is an excellent option.
Description and characteristics of the Fender FA-100
The Fender FA-100 acoustic guitar is the most affordable model of the Fender brand. It is a Dreadnought body guitar, with laminated spruce top, Basswood sides and back. It is well suited to a wide range of styles and also offers decent resonance and bright tone.
This instrument features an innovative and effective X brace and body joints. It has a C-shaped neck, which is one of the most comfortable profiles. The neck is made of maple, a hard and shiny wood. Regarding the fingerboard, it is made of rosewood and has twenty frets, adorned with mother-of-pearl inlays that enhance the aesthetics.
The Fender FA-100 comes with a set of bright-toned Fender Dura-Tone strings, and they have gauges between 0.012 and 0.052. This instrument has a double action tensioner and the width of the nut is 42 mm. The guitar has an excellent gloss finish that makes it not look like a sub $120 guitar.
As you'd expect from a Fender acoustic guitar, it delivers a full, vibrant tone. Plus, its audio makes this guitar just as suitable for strumming as it is for fingerpicking. It's available for a super low price and comes as part of a package that includes all the accessories a beginner could want: case, strap and clip-on guitar tuner.
Also, we recommend that you take a look at best easy country songs to play on acoustic guitar for beginners.
Fender FA-115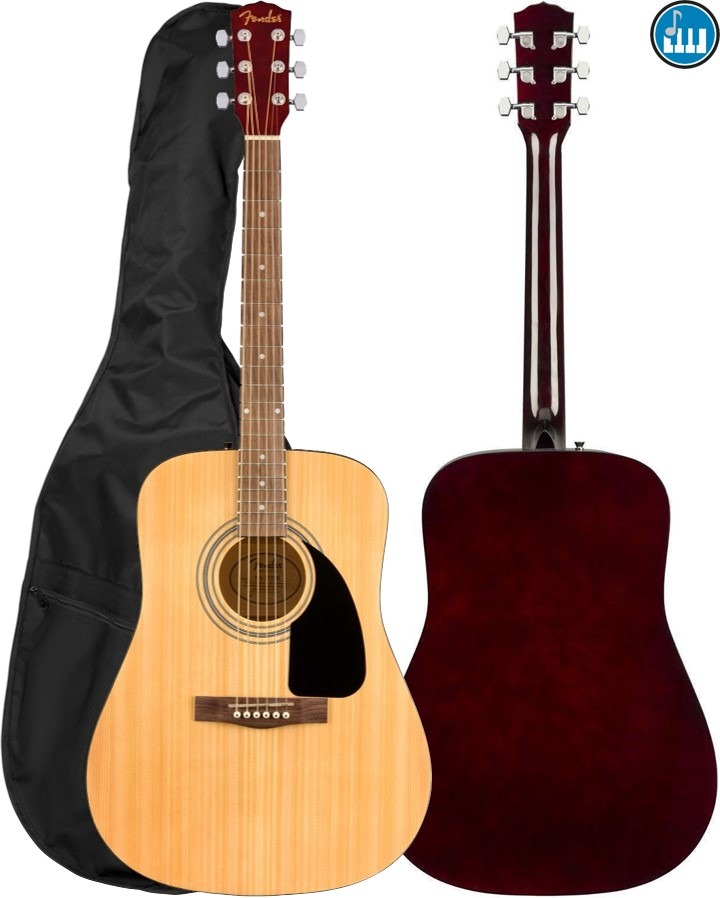 Fender FA-115 Price: $149 / £101 / €119
Advantages of the Fender FA-115
Unbeatable price
Balanced tone
20 frets and scale length 25.3
Comes with case, strap and guitar tuner
General opinion about the Fender FA-115
The FA-115 is the big brother of the FA-100, and also offers exceptional value for money. It really does have a cool aesthetic with its natural, sunburst and black finishes. The sound is also great, but more balanced, warmer than the FA-100. It also comes as part of a package that includes accessories: case, strap and clip-on guitar tuner. Thus, it adds to the great value for money it costs.
Description and characteristics of the Fender FA-115
The Fender FA-115 is an improved and more complete version of the acoustic guitar that we have seen before. Like that model, this one comes as part of a package, including everything a novice guitarist could want.
Like the FA-100, it has a laminated spruce top, but things change on the back and sides, as they are laminated Asian mahogany instead of basswood. The body is also shaped like a Dreadnought. In addition, the bridge is made of walnut, a wood widely used for guitars.
On the neck side of the Fender FA-115, it's made of Nato, instead of maple like the FA-100. The fingerboard has twenty frets and has a 43mm plastic nut.
The FA-115's Asian mahogany back and sides and Nato wood neck give it a more balanced and warm tone than the Fender FA-100. But continue to maintain a bright tone. The action is also pretty good for a low end guitar, the guitars we tested didn't have a buzz from the frets.
There are three finish options: Natural, Sunburst, and Black. The pickguard is a single ply black which looks great paired with the available colors.
Also visit our review of the best XLR and USB condenser microphones for recording acoustic guitars.
YamahaFG800
Yamaha FG800 price: $357 (at time of publication of this review Sweetwater had it marked down $220) / £257 / €298
Advantages of Yamaha FG800
Great value for the price
Solid Upper + Reinforcements
Scalloped
Great projection
General opinion about the Yamaha FG800
Yamaha makes exceptional affordable products that are aimed at beginners and hobbyists, and this is one of them. The full sound it offers is hard to beat. We were also impressed with the quality of the extras that come as part of the package. The hard case is an excellent product. Overall, there is little to criticize this superb Yamaha product.
Description and characteristics of the Yamaha FG800
Here we have another wonderful guitar made by Yamaha, which is part of the popular 800 series. The FG800 is actually the model that started the whole series. It's a powerful, well-balanced guitar that has become a best seller for many good reasons.
It's a western shaped product, featuring Yamaha's revolutionary scalloped brace pattern. It also has a solid spruce top which contributes to the instrument's sound and durability. The innovative bracing ensures you get the best resonance.
The scale of this model is 25.9 / 16″. It has a 43mm nut width. Yamaha has used some unorthodox high quality woods for its construction. The neck and back are made from nato wood, while the sides are made from Okume, which is also known as Gaboon and Angouma. These woods help deliver a rich, warm sound across the entire sound spectrum.
The fingerboard is made from rosewood and is a good size for adult learners. The tensioner can be adjusted so you can find the best action for your needs. This model is available in black or natural, as well as a few different styles. It also has chrome die-cast pegs.
You can buy this amazing product as part of a bundle, which can help you get better value for money. It's a great choice for hobby guitarists or people looking for a solid product to learn on. It comes with a hard case that will certainly keep your instrument safe.
You might be interested in our selection of the best microphones for singing.
Martin LXK2 Little Martin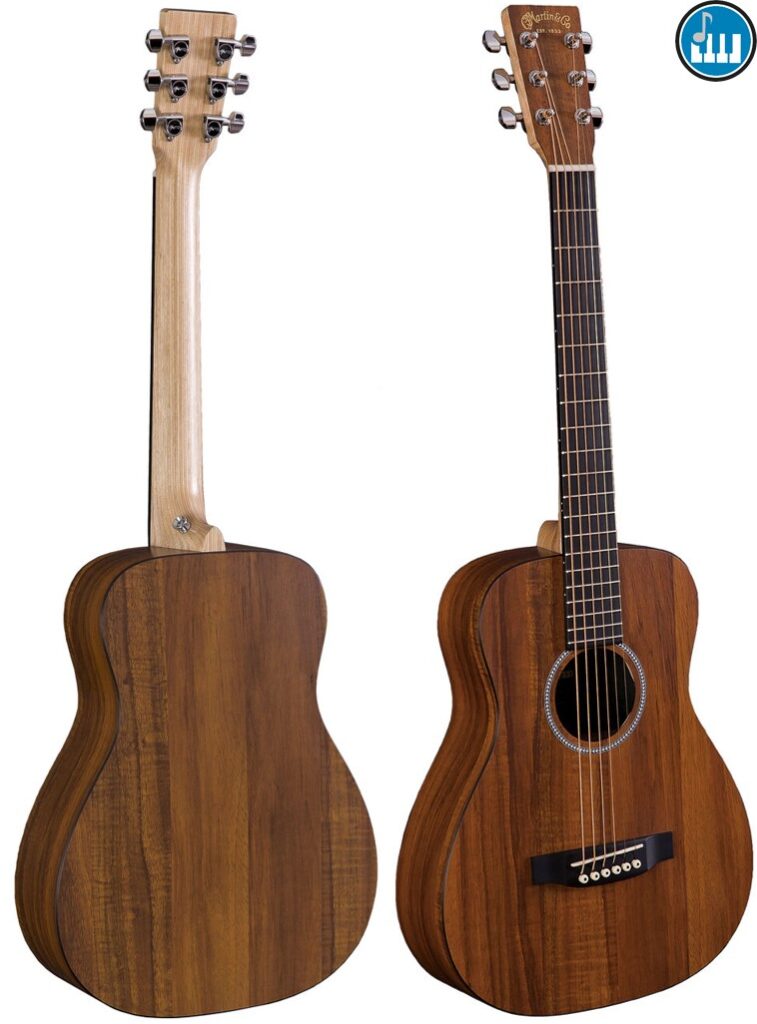 Martin LXK2 Little Martin Price: $349 / £259 / €299
Advantages of the Martin LXK2 Little Martin
23″ short scale guitar ideal for small hands or children
Full, well-balanced sound
Portable, ideal for traveling
Reasonable price
General opinion about the Martin LXK2 Little Martin
Despite being a smaller model, this Martin guitar offers a big, balanced sound thanks to Martin's exceptional build quality. It's a brilliant choice for guitarists with small hands or for teenage guitarists. In addition, it is a super portable guitar, perfect for traveling musicians, since you can take it wherever you want.
Description and characteristics of the Martin LXK2 Little Martin
Martin is one of the best acoustic guitar manufacturers along with Taylor. The "Little Martin" acoustic guitar is one of their most affordable models. It's a 23″ scale guitar that's portable and just the right size for small-handed, young, and even kid-sized guitarists. It features many typical elements of a Martin instrument, such as the patented "mortise" neck.
To achieve an affordable guitar, Martin uses excellent quality alternative materials as a replacement for tonewoods.
So, he uses what they call HPL for the top, sides, and back of the guitar's soundboard. HPL stands for High Pressure Laminate, it is a composite material made from paper and resin that is pressed under very high pressure. The surface has a wood pattern that can be mahogany, rosewood, koa, or other, and a clear protective coating. But don't be scared, these guitars are great. Years ago, they have been some of the best cheap acoustic guitars on the market. Additionally, the neck is made from natural birch veneer.
The bracing is made from Sitka spruce wood, giving the guitar excellent resonance and durability. The pins are nickel plated and of high quality. Finally, the KOA design on its box gives it a cool and unique look.
We recommend that you also visit our tutorial on the best DAWs to record, mix, edit and master music and audio on PC Windows, Mac and Linux.
Cheap Acoustic Guitar Buyers Guide
What to look for in a cheap acoustic guitar?
Buy a well-known brand guitar
Our first piece of advice for any beginning guitarist looking to buy a cheap acoustic guitar is to buy a musical instrument made by a leading or trusted brand. Thus, we recommend considering Yamaha, Fender, Epiphone, Martin, Ibanez or PRS. This way you will have a guarantee that he is buying something well built.
Build quality
While you must be a beginner guitarist for sure, there are certain things one can check before buying. Make sure the pegs are solid, made of solid mental. Look at the look of the wood, avoid solid colors that you can't see the wood.
Check the specifications of the guitar and see what woods it uses. A spruce top is an excellent option. Spruce is a wood that resonates well and is used on mid and high range guitars. Additionally, when your budget allows, aim for guitars with solid tops. The top is the part of the guitar that amplifies the sound. In addition, it has a great impact on the tone of the instrument. A solid top will make a big difference over a plywood top.
However, keep in mind that solid top guitars tend to weigh more than a laminated body. If what you are looking for is portability above all else, a guitar with laminated woods will be a great option.
Guitar setup
To make it easier to learn to play, the guitar should be comfortable and set up well. This is why it is important that the guitar has a low action. The action is called the distance between the strings and the fretboard. A low action means that you require less force to pluck a string.
We recommend you download Camel Crusher, a free VST plugin.
You get what you pay for
Don't go by the specs alone. You can find two very similar guitars on paper, but totally different in reality. Nobody gives you anything for free, and any extra money you can invest in your first guitar will allow you to get a better instrument, for a longer time. Thus, an ultra-cheap Fender pack will work very well in your first few years as a beginner. But if you go fast, you may have to change it sooner than expected. Instead, a guitar like the Yamaha FG830 or FG800 will be guitars that can accompany you for much of your musical life. Since these musical instruments are great even for intermediate and advanced guitarists.
When you buy a package, the manufacturers are not giving you the accessories, but it means that the guitar is cheaper than what you are paying. While it's practical to buy a package, you usually give up some quality in the acoustic guitar.
What type of cheap acoustic guitar is best for beginners?
You'll also want to consider the length and width of the guitar's neck. If you have small or large hands, if you are tall or short, these are factors that will make a guitar more suited to your tastes and needs. If you are looking to buy a guitar for a child or teenager, or if you are an adult with smaller hands, then you may want to consider a model that has a shorter scale length like the Little Martin.
The same will happen with the shape of the acoustic guitar body, there are instruments with larger and smaller bodies. Try which one suits you best. But keep in mind that the smaller the guitars, the smaller their sound too. On the contrary, the bigger the acoustic guitar, the bigger and more powerful it will sound.
What is the best quality cheap acoustic guitar?
It will depend on how quality is defined. But as we have already seen, normally, the more you pay, the better quality the guitar has. Therefore, it is not surprising that the Yamaha FG830 and FG800 are the winners in this regard. However, the other options also have a very good quality in relation to their price.
For an inexpensive acoustic guitar, with a good tone and made with decent quality components, you should probably pay upwards of $250.
Types of acoustic guitars: size and shapes
Acoustic Guitar Body Shapes: Acoustic guitars come in many different shapes and sizes, with parlor, auditorium, classical, jumbo, and dreadnought being the most common. The battleship is the most common form and probably the strongest off-roader, hence why it is the most common form on this list. Dreadnought shapes are suitable for the vast majority of musical genres and musicians.
Who is this list of the best cheap acoustic guitars for?
This guide is intended for:
beginning guitarists
Musicians on a budget
Guitarists looking for a workhorse guitar so as not to put their main guitar at risk in certain circumstances.
Where to buy an acoustic guitar?
It is always advisable to buy at your local musical instrument store, with the help of a friend who knows how to play the guitar or with the advice of a trusted seller. Especially with low budget acoustic guitars whose quality varies from unit to unit.
In case you don't have a local store you trust, you can also buy from online stores like Sweetwater or Guitar Center. These stores allow you to return the instruments if you don't like them, free of charge.
Do I have to change the strings on a cheap new acoustic guitar?
String upgrades: The strings that ship with inexpensive acoustic guitars are generally reasonable, but should be your first change. Changing strings will improve tone and playability. You'll also be able to select strings to suit your musical style, including nylon strings. The strings are relatively inexpensive and easy to change, ideal for beginners.
Conclution
In our opinion, all of these guitars deliver great value for money. Really, it was not difficult for us to choose a favorite, and it was the Yamaha FG830, but of course, it costs up to 4 times what the rest cost. It delivers everything a guitarist of any level can look for in an acoustic guitar. But we are aware that perhaps it is too much guitar for someone who is starting from scratch.
If the choice is for price, don't think twice, the Fender FA-100 is the best option. It is a decent quality guitar, which will fulfill all your needs in your first years of study. Of course, if you move on sooner rather than later, you'll need to change your guitar.
If you're looking for a traveling guitar, the Little Martin is a fantastic guitar. It is a guitar used by musicians of all levels who want to have a guitar that is easy to take anywhere.
But like everything, tastes are subjective, it may happen that you prefer the warm tone of the Epiphone or the Fender FA-115 gives you everything you need. That's why we also included those cool guitars.
However, that is our choice. The one that you decide that he is your favorite could be different. We recommend making a list of your personal needs, be it budget, sound, or looks, and then peruse our reviews before deciding which one to spend your hard-earned money on. Don't forget that buying one that is part of a package can also save you a lot of money, since you won't have to buy all the accessories separately.
Also, take a look at our guide to the best free online apps to make drum bases, backingtracks and Beats ideal for soloists or playing alone at home.