Camel Crusher VST Plugin: free tool download here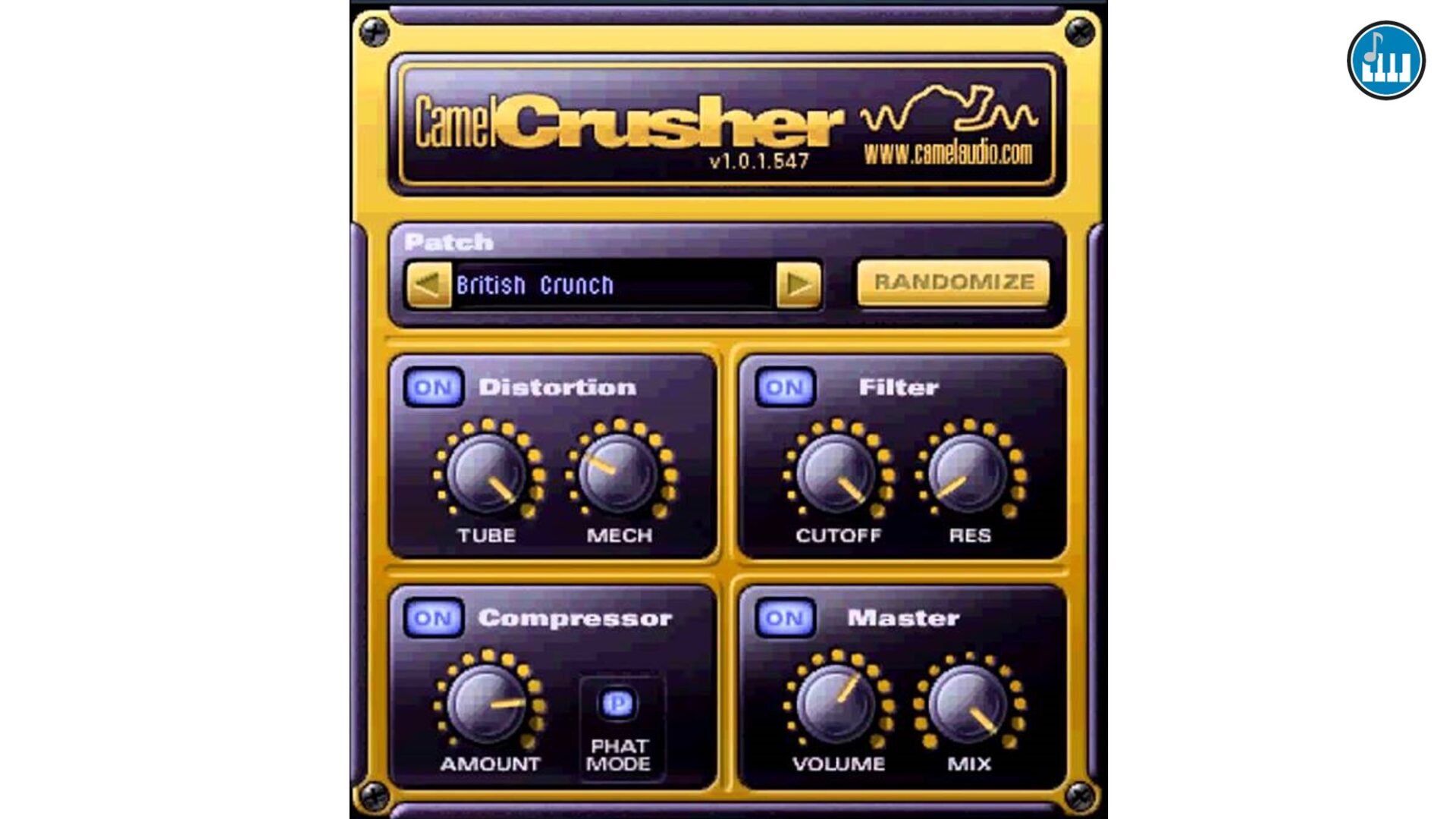 Camel Crusher is an easy to use free VST plug-in for beginning and advanced electronic music producers that allows you to color or distort your master and instruments.
Camel Crusher VST Plugin by Camel Audio Full Free Download
Completely Free Camel Crush VST Plugin Download:
How to install Camel Crusher VST Plugin?
Installing Camel Crusher is super easy. The first step is to download the zip file available above and follow the steps below:
Open the folder you downloaded here and select the location where you want to download the installation files. We suggest you leave the default folder.
Choose whether you want the Mac or Win x32 or x64 version of Camel Crush, and double-click on the corresponding application to launch it.
Accept the terms of use and start using them.
In the following video we also show you how to install Camel Crusher by Camel Audio:
What is Camel Crusher?
The Camel Crusher is a free distortion/overdrive VST plugin that allows you to colorize your master or distort your instruments. Ideal to use with your DAW to record music in your Home Studio.
The Camel Crusher is the simplified free version of the Camel Phat. This VST plugin allows you to distort or overdrive your instruments – synths or whatever – or simply add some bright, high-end warmth. Thus, this VST plugin is a perfect distortion / saturation tool for the electronic music producer.
Despite 15 years since its release, the Camel Crusher has become a classic accessory for any music producer. If you don't want to invest in paid distortion plugins like Camel Phat, SoundToys Decapitator and iZotope, the Camel Crusher is the best option hands down.
You may be interested in how to builde your Home Studio.
Pros of Camel Crusher:
Sounds great
Easy to use
Free
MIDI Mappable
Cons of Camel Crusher:
Not compatible with Logic Pro 10.5
What artists use or used Camel Crusher?
What's Not
avicii
flume
diplo
Major Lazer
Among many other artists. In a nutshell, it's a super popular distortion VST plugin.
If you are interested in free tools, be sure to read our guide to the best software and apps for free Beats online.
Skill level / Ease of use
The Camel Crusher is a stripped down version of the Camel Phat. Its user interface is simple and straightforward. Any beginning music producer will be able to use it very quickly without any difficulties. Thus, its ease of use and its audio quality make it a perfect tool for music production.
How does Camel Crusher sound?
This is one of the best free distortion VST plugins you will find. The Crusher can be used for a wide range of situations. It allows you to add a bit of color to your Master or aggressively distort your instruments.
The Camel Crusher's algorithms are of a very high quality, giving it a very crisp and clean sound. Thus, this plugin allows you to add subtle saturation to your master without adding unwanted harmonics.
How to use Camel Crusher audio VST plugin?
This Camel Audio plugin is super easy to use. You just have to load it into your instruments and start experimenting and turning dials. A great way to use it is to add warmth, depth and beautiful high harmonics to your originally dull sounding synth. Also, really functional for adding a subtle saturation to your mix.
You can use it together with a virtual guitar amp or other instruments.
But let's see each of its features in detail.
Interface of Camel Crusher
The Camel Crusher interface consists of five sections:
Distortion
Filter
Compressor
Master.
Patch
We explain each section in detail below.
Patch: Presets Menu
The presets folder consists of 20 great sounding presets. Available options range from subtle settings like 'Subtle Master' to deeper settings like 'More Beef' .
Full list of available Presets:
Annihilate
British Clean
American Crunch
british crunch
American HiGain
British HiGain
bass maker
Clean Rainbow
Tube Warmth
Dark Crunch
destroyer
ultra phat
distortion
Dream
More Beef
Santana Row
Fuzz Filter
Subtle Master
YouWereWarned
Turn it to 11
Also, you can simply create your own presets and save them to your 'User' presets folder, allowing you to easily access them in the future. Also, you can load additional 3rd party presets. You can share with friends, or find available presets on the internet and use them.
The Randomize button allows you to randomly select one of the available presets. Ideal to break with the routine and your own style and innovate. You can reach sounds that you would not have reached following your style.
Camel Crush Features
Distortion
The distortion section -AKA Crusher, Beef, Destroy, Annihilation- has two knob-like controls: 'Tube' and 'Mech'.
The "Tube" knob is a tube-type drive, which allows you to add effects a bit more subtly. This is perfect for adding a bit of warmth to your master or synth.
The "Mech" knob is the one with the most distortion and the most mechanical sound. This type of effect is perfect for producing Dubstep and you just want to add full dirt and grit to your growls.
Filter
The filter section has two knob-like controls: 'Cut off' and 'Res'.
Cut off: The filter is either a High Pass Filter or a Low Pass Filter. This means that it removes the high frequencies set above your cutoff setting and leaves everything else intact.
Resonance: The "Res" knob adds a nice little resonant peak right where the cutoff setting frequency is. This is perfect if you want to add some higher pitched harmonics.
Thus, it works like any other Synth Filter.
Compressor
The Camel Audio Camel Crushers Compressor consists of two controls, one knob type 'Amount' and one button type called 'Phat'.
The Compressor 'Amount' knob basically selects the compression level of the signal. This way you can emphasize the effect you have applied to the distortion and filter settings. If you push it all the way, you'll get a fully distorted and compressed sound with no dynamic range.
The 'Phat' button supercharges the Compressors 'Amount' setting, making it super 'Phat'.
Master
Finally, the last function is the Master function, which allows you to regulate the volume and mix of the dry and processed signal, thanks to the two knob-type controls: «Volume» and «Mix».
MIDI Mappable
The Camel Crusher VST Plugin allows you to assign knob and button controls to MIDI. Thus, you will be able to handle this great VST plugin with your MIDI device. This makes it easy and fun to add effects to your song in a live environment.
To configure and assign each of the functions to your MIDI controller, simply right click on the desired knob and press 'MIDI learn' and move your desired MIDI knob or fader.
Summary of Camel Crusher
Camel Audio's Camel Crusher is an ideal tool for anyone looking for a simple, effective and free VST plugin. Its simplicity and quality are its main characteristics. The only drawback is that it is not compatible with Logic Pro 10.5.
If you are interested in freeware to equip your Home Studio, we recommend that you visit the best free guitar amp simulators.