Make Beats for free online: best software and apps for Beatmakers
The best software and studio apps, DAW, and free online drum machines for Beatmakers, the best to make Beats for electronic music -EDM, Hip Hop, Rap and more-.
How to make Beats online for free?
Today there are many software and apps in the cloud to be able to make Beats online for free. There are some more sophisticated ones that are studios and DAWs for internet browsers, that handle Sequencers, Samplers, and large sound libraries, with which you can make almost professional Beats online and for free. These are ideal for those who already have knowledge of how to make Beats or beginners who want to learn how to be Beatmakers or producers of electronic music, such as Hip Hop, EDM, Rap, Dubstep and more.
For amateur musicians with little knowledge who are looking for something simple and direct to be able to make Beats easily and quickly. There are very simple applications that combine video game interfaces with a rhythm machine like the Indredibox.
Somewhere in between are drum machines that are easy to use, and although they require a minimum of prior knowledge, they are ideal for beginners. Here we can find free online apps like 808303 Studio, Beatmaker by Slice Sounds and Genius Home Studio and more, ideal for making Beats easily and quickly.
Once you want to go further as a Beatmaker, we suggest moving forward with a MIDI Keyboard to make Beats.
What is a DAW?
A DAW, or digital workstation, is software that works like a mixing desk in a recording studio. They have several tracks or channels to add and remove all the digital instruments you need. They have complete libraries of Samples, instruments and more. They also have an effects section to be able to edit track by track or the entire recording. Thus, they are complete and powerful recording studios to make Beats online for free.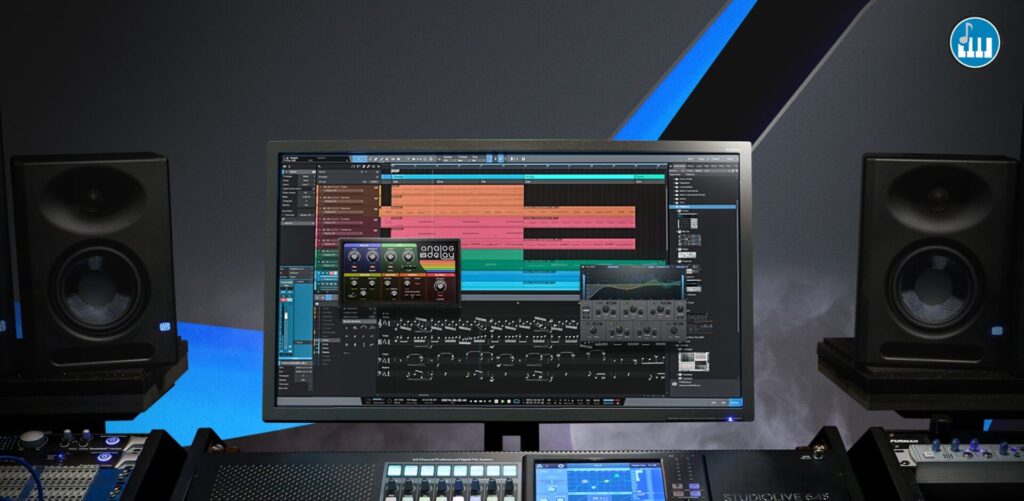 So you can find Audiotool, Amped Studio, Soundation Studio and BandLab Mix Editor. Powerful DAW for web browsers used by a large community of Beatmakers who make, collaborate and share Beats online for free.
How do digital studios and DAWs work?
Using digital studios and DAWs requires some basic knowledge of making Beats. DAWs and studios have an intuitive track workflow, in which you can add or remove rows where musical instruments are placed. Some feature chord progressions to help you compose. They have an effects section to be able to edit with Delays, Reverbs, Distortions, and others, each instrument independently. In addition, you can set the duration and speed of the song or Beat.
Making Beats with these free online software, while relatively simple, requires time and dedication. If you want to learn to be a true Beatmaker, DAW Studios are the way to be. Thus, with these software and apps you will be able to make true professional Beats for electronic musical styles such as Hip Hop, Rap, Dubstep, Trap, Reggeaton, House, Disco, Trap, Techno, Drums 'n Bass and more.
What is a drum machine, how does it work, is it used to make beats?
A rhythm machine is an electronic musical instrument that will allow you to make Beats, since it can play sounds or audio samples that are recorded on each of its pads, mainly drums and percussion. But some also include many other musical instruments like basses, synthesizers and others. The different sounds work like in samplers; thus, you can edit, configure and record them on the pads thanks to an internal sequencer.
Initially they appeared as hardware, but today there are also PC or Mac software and Apps for mobile devices. Also, there are free online drum machines for internet browsers that allow you to make Beats wherever you want.
The operation of the drum machine is quite simple and does not require you to have great musical knowledge; although of course having them will make their use much easier. Therefore, you may prefer to use these before studios or DAW to make Beats online for free.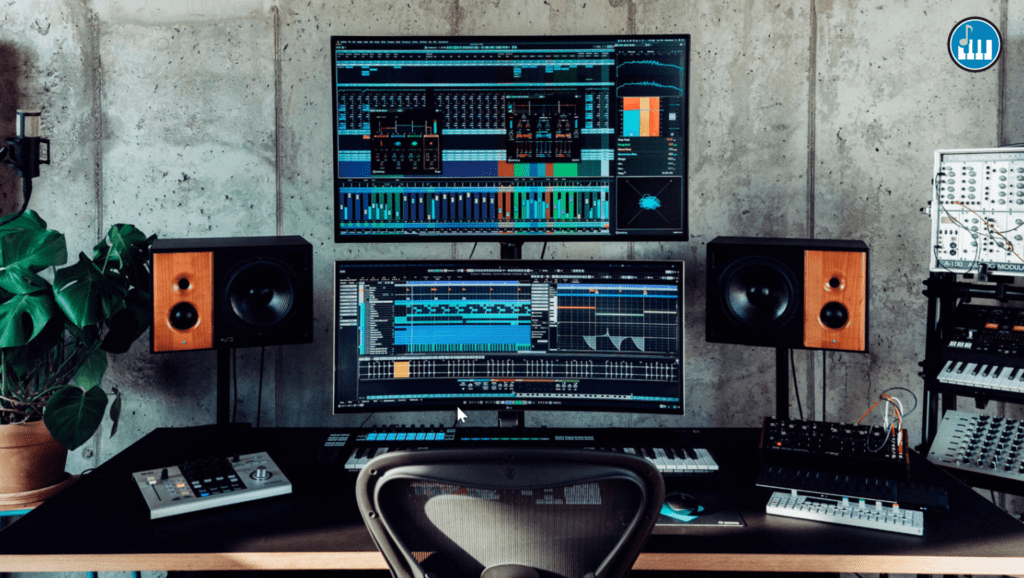 How does a drum machine work?
Using the drum machine is relatively easy. We register the sound or rhythm that we want in the grid of pads and we activate or deactivate the pads to achieve the desired sound or audio sequence. In addition, you can configure the duration and speed of each rhythm sequence. This way we can regulate the bpm values ​​-beats per minute-, so you can edit your Beats. The operation of the rhythm machines and their pads is very intuitive, with which you will be able to make Beats easily.
By pressing on a pad in the grid we activate the sequence registered in that pad, and it will continue to sound until we deactivate it. So you can create Beats in a simple and intuitive way. You can also keep recording sounds at other points on the grid while you have multiple activated sequences playing. Thus, it allows you to create your instrumental Beats from scratch and gradually include and remove elements.
Drum machines are widely used to make beats for electronic music such as Hip Hop, Rap, Dubstep, Trap, Reggeaton, House, Disco, etc., but their use is not limited to those genres.
Also, you can use great plugins like Camel Crusher, a free VST plugin.
Make Beats online for free: first steps
Free online studios, DAWs and virtual drum machines are great tools for those starting out on their Beatmaker adventure and or those who want to make Beats anywhere. Online Drum Machines are very practical for Beats in a matter of seconds. Online studios and DAWs are powerful software to make free high-quality Beats for Hip Hop, Rap, EDM, Trap, Reggeaton, House Disco, and any other type of electronic music.
Ableton's website has a simple but effective tutorial to help you get started with the Beats. There aren't many audio options, just four: Kick, Clap, Close Hat, and Open Hat, and four 4-beat bars. If you don't have experience yet, check it out here: Ableton.
To make beats, we suggest you listen to the best powerful heavy bass songs for inspiration.
The best studios, DAWs and free virtual drum machines to make Beats online
Audiotool
Amped Studio
Soundation Studio
BandLab Mix Editor
Genius Home Studio
808303Studio
Beatmaker Slice Sounds
BeepBox
Drumbot Drum Machine
incredibox
One Motion Drum Machine
Drumbot Sequence
Drumbit Online Drum Machine
WebAudio Drum Machine
Audiotool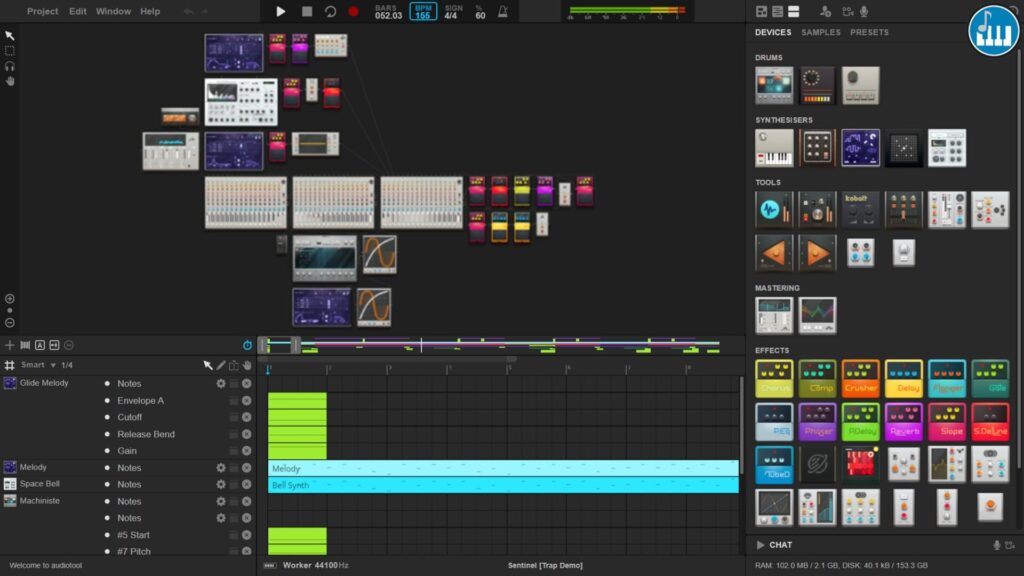 Audiotool is a complete online music production studio right in your internet browser. Thus, you will be able to make your Beats and music in the cloud completely free of charge.
This free online app to make beats has a modular structure. Thus, all Audiotool devices can be freely added to the application desktop, where cables can be manually dragged from input to output, mirroring the workflow of early electronic musicians.
Additionally, Audiotool boasts an ever-growing cloud-based library of over 1,000,000 Samples powered by the community of Producers and Beatmakers. There are also over 200,000 device presets accessible. It has demos of different musical styles such as Hip Hop, Rap, EDM, Trap, House, Techno, Trance, Ambient and many more.
Audiotool allows you to connect any MIDI controller to the audio tool, which will make it easy for you to make your Beats. Thus, you will be able to play all the musical instruments and control all the buttons or sliders with real hardware.
All projects, Beats or songs are stored on Audiotool servers. In addition, this tool to make free Beats online allows live collaboration. In this way, you can invite other Beatmakers or music producers to your studio to collaborate, teach and work simultaneously in real time via video, audio and text chat.
Audiotool features Sequencer, emulation of various vintage synthesizers and drum machines. Also, this music production app has mixing and routing tools. Also, it has many effect options of all kinds such as compressors, delays, filters, reverbs, emulation of classic guitar pedals, and many more powerful tools to make beats of Hip Hop, EDM, and other styles of electronic music.
The best option to make Beats online for free
This tool is ideal for music producers with some experience. But in case you are a beginner Beatmaker, it has an excellent tutorial that will allow you to take your first steps in creating Beats and electronic music such as Hip Hop, Rap, Trap and more.
In our opinion Audiotool is the best digital DAW Studio to make Beats online and for free. Unlike the other Studios and DAWs we describe below, Audiotool does not have premium tools or objects that you have to pay for. Audiotool is a completely free tool today.
We suggest you take a look at our review of the best musical keyboards and digital pianos.
Amped Studio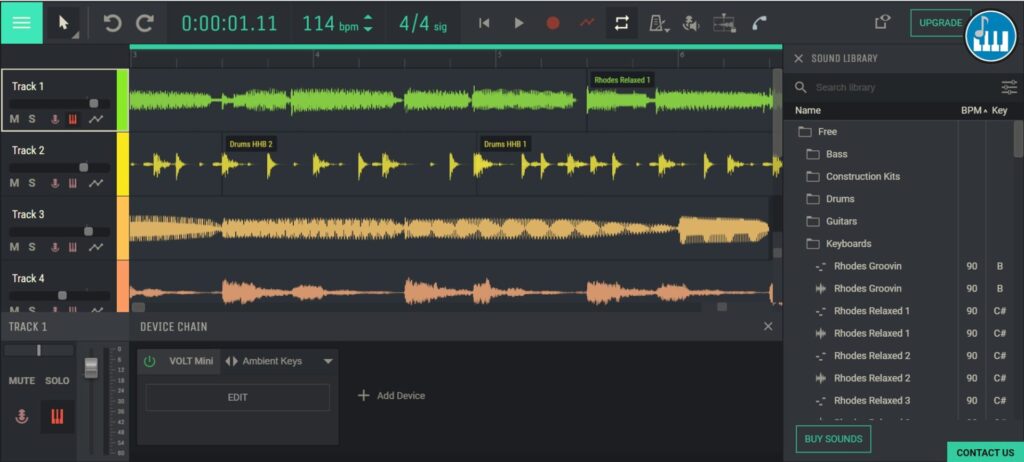 The Amped Studio online studio works as a web application for creating Beats. This program is an online sequencer where you can make your own Beats for free. While this DAW is free, it also has "premium" features that can be purchased. Amped Studio is a complete DAW that has all the features of traditional software. This online beat maker has VST plugin compatibility which makes it a complete and flexible tool for an electronic music beatmaker or music producer.
Main features of Amped Studio
Sample libraries, sets of MIDI files and audio loops and construction kits;
Reverbs, equalizers, compressors and other effects to process and improve sound quality;
Multitrack recording and editing functionality;
Automation to control various sound processing parameters;
Ability to share projects and work as a team.
This app for making beats online is complex enough for professional music producers to use, yet intuitive and friendly enough for beginning beatmakers to use.
We suggest you also read our guide to the best free guitar effects pedal VST plugins.
Soundation Studio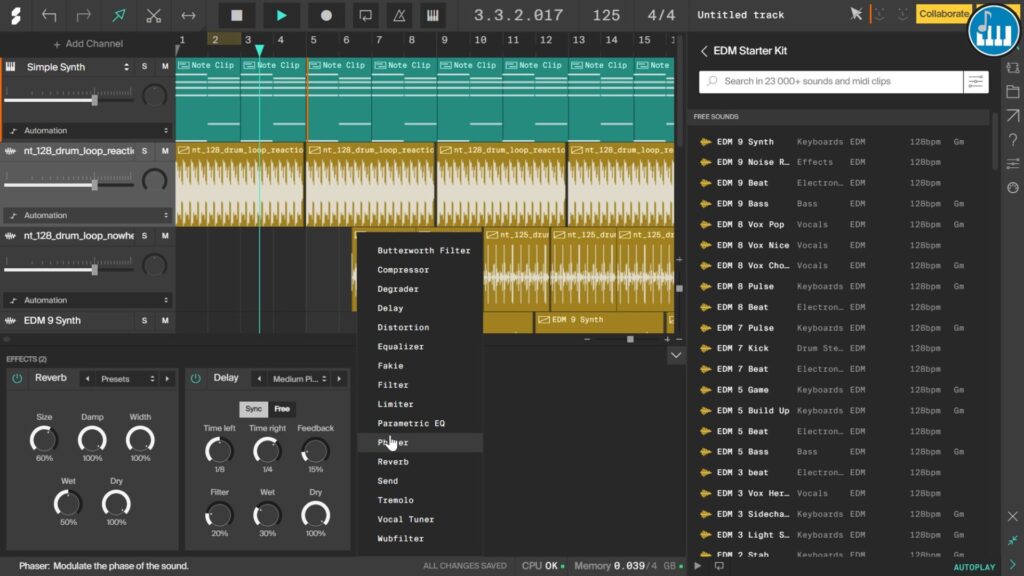 Soundation is a complete online studio for Beatmakers and Music Producers. Although, unlike Audiotool, it is a paid Cloud Software, it has a free option in which you can create three projects, that is, three Beats or songs.
This cloud DAW is ideal for making beats for EDM, Hip Hop, Dubstep, Drum 'n Bass, Chillout and other electronic music styles. Soundation has a large library of Drum Machines, Synthesizers and Samples. You can also use your PC or Mac keyboard to make your own music. You can edit each track with the audio effects it counts like Tremolo, Distortion, Fakie, Reverb, Phaser, Delay and more.
The community of more than 20,000 beatmakers and music producers allows you to share music and collaborate live.
BandLab Mix Editor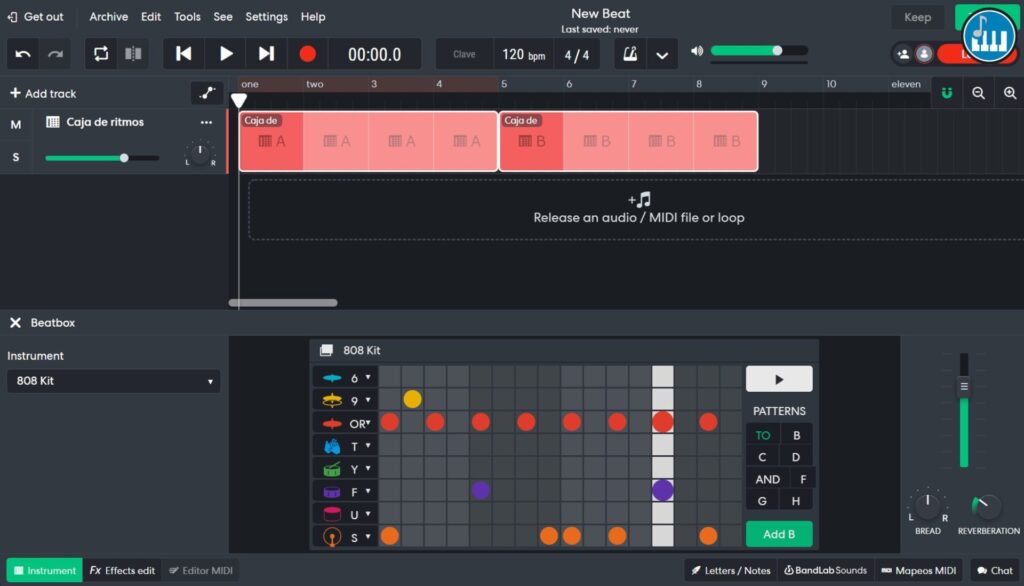 Bandlab is a cloud-based social platform and online DAW that enables musicians, producers, Beatmakers and fans to create music and Beats, collaborate and interact with each other around the world. BandLab's Mix Editor is a free web-browser online DAW/Studio.
BandLab Mix Editor has a complete library of Drum Machines, Samples, ability to import elements and MIDI instruments. It also has effects for editing for each channel / track. Its difficulty level is medium-low, so it can be controlled by Beatmakers of all levels.
Genius Home Studio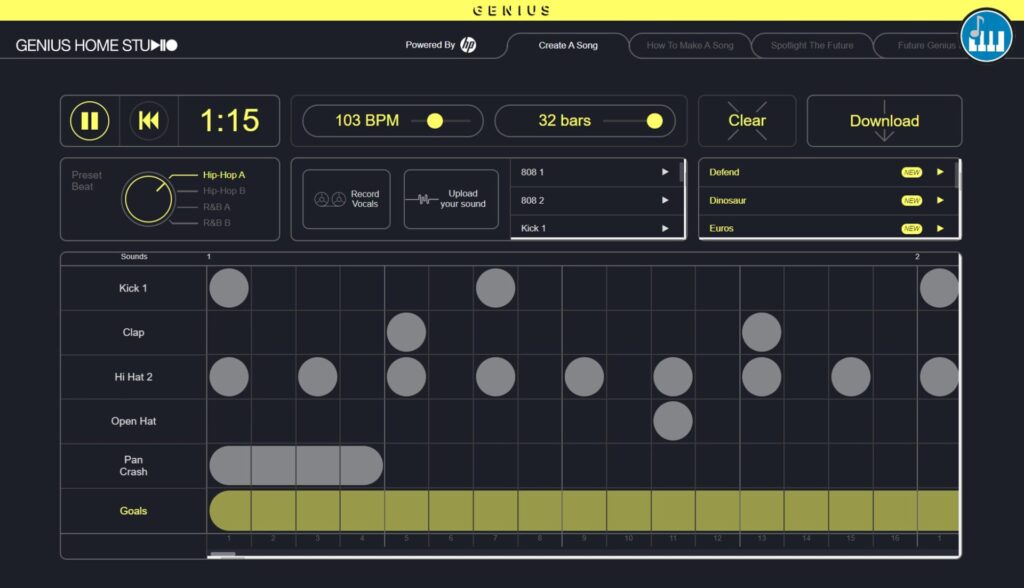 The Genius Home Studio is a super easy-to-use web browser DAW ideal for beginning Beatmakers. It is very intuitive and easy to use. In a few minutes you can be making your Beats online and for free. You can make your own songs and Beats and download them to your computer. Also, you can easily record vocals.
The Genius Home Studio is simple, but that is its great virtue. If you are taking your first steps in music production, this is a great tool to keep things simple.
808303Studio
Yuri Suzuki, in collaboration with the Design Museum and Roland, has made this digital musical instrument ideal for making Beats for Drums 'n Bass.
This free online Beats and music creation platform recreates the sound of the legendary TR-808 drum machine and TB-303 bass synthesizer. In addition, it allows you to download your tracks, songs and Beats and save and share them on social networks.
It is a super simple but powerful tool. You will be able to make songs in a few seconds with an excellent audio quality, with only your internet browser.
Beatmaker Slice Sounds

Beatmaker Slice Sound s is a free online drum machine that shows incredible flexibility. This software allows you to record by measures, with a limit of 32. In addition, this rhythm machine to make Beats online for free has an extensive library of tracks and sounds. It has 16 pads or banks to record audio or samples. You can record your Beats, or use Beats made by other Beatmakers from the Slice Sounds community.
While the app for making Beats is free, unlimited access to all of the Slice Sounds resources requires a $9.99 monthly fee. Paying you will have access to a library of more than 1 million Samples. You can download the Beats you make in audio format, Midi and more; the options are: Sample Files, MIDI Files, Pioneer DJ -TORAIZ SP-16 and DJS-1000- and soon in Ableton Live.
If you want to go further with your beats, check out the best cheap electronic drum sets for beginners.
BeepBox
BeepBox is an online tool to make Beats in a very simple and easy way totally free. All song data is contained in the URL, so you can produce it in any browser. BeepBox has four rows or channels where you can choose different instruments. In the fourth row is the drums/percussion, which also has various instrument options. You can add or remove notes by clicking the gray rows at the top. You can select which key to play the song in and select different difficulty levels which makes it easy to compose Beats for beginners.
Despite its great simplicity, it has 16 beats for the 16 bars, allowing you to make Beats with many details. Also, BeepBox has keyboard shortcuts which makes it incredibly easy to make the Beats.
Also, you can download an offline version of BeepBox to make Beats when you don't have internet access. This Off-line version has all the same features as the Online one.
Drumbot Drum Machine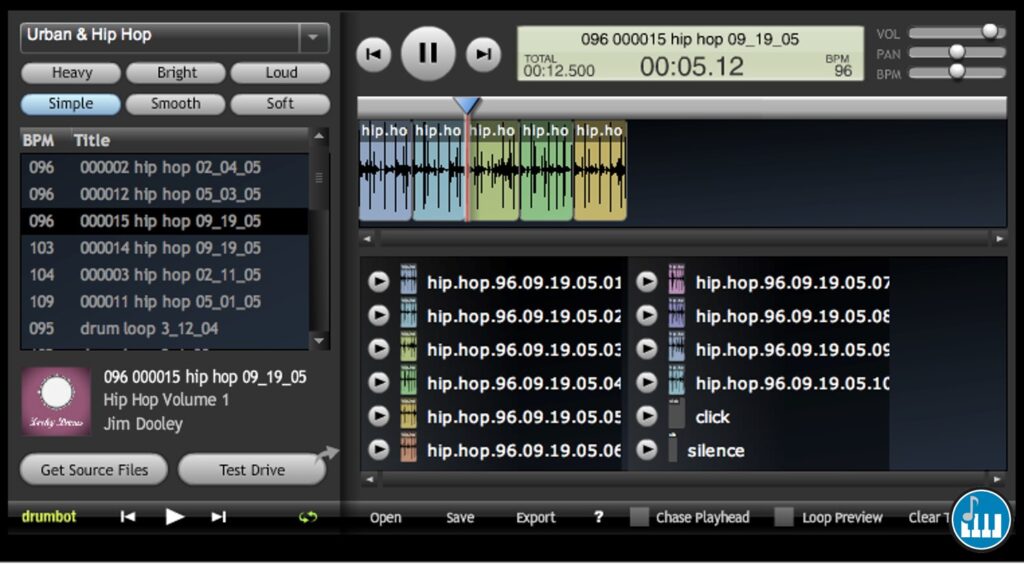 Drumbot is a free virtual drum machine with Samples that allows you to easily create rhythmic patterns and loops. Drumbot himself defines it as the drum machine for non-drummers. It has already predefined patterns, which you can order in the timeline. Thus, in a very simple and intuitive way we can work on the composition of a drum base, dragging and dropping predefined patterns. Also, you can modify and create loops, change the bpm, volume. Thus, it is not necessary to have basic knowledge of drums or percussion to be able to use Drumbot Drum Machine
The first step to make your Beats with Drumbot is to choose the type of musical style. Once the musical style has been chosen, for example «Urban & Hip Hop», we have a set of predefined drum patterns available. The various patterns are grouped into Verse, Chorus, Silence and Click. Once you have finished your Beat online, you can export them for free to wav format.
Thus, in a few minutes, without being a Beatmaker you can put together a Beat or drum loop. Thus, Drumbot Drum Machine is ideal for beginners without previous knowledge or when you want something easy and fast.
Incredibox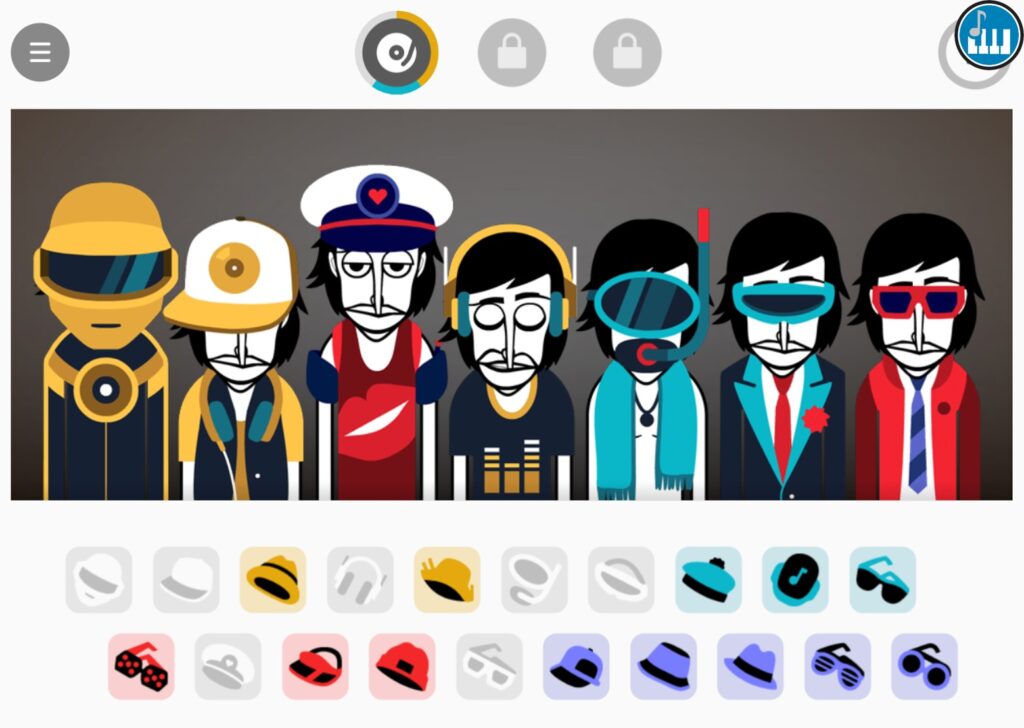 Incredibox is a music app that combines a fun and easy-to-use video game and drum machine concept. It's a fun and interactive music experience. You can download this app that costs US$70, or use its demo with your internet browser to make Beats easily, online and for free!
Incredibox allows you to create your own music with the help of a team of beatboxers. First you choose your musical style among 8 different atmospheres, then choose the Sample that each of the Beatboxers will play and start composing, recording and sharing your mix. Thus, you can in a matter of seconds have an impressive Beat.
Incredibox, part game and part tool, is above all a sound and visual experience that has quickly become a success among users of all ages. Also, because it makes learning fun and engaging, Incredibox is now used in schools all over the world.
One Motion Drum Machine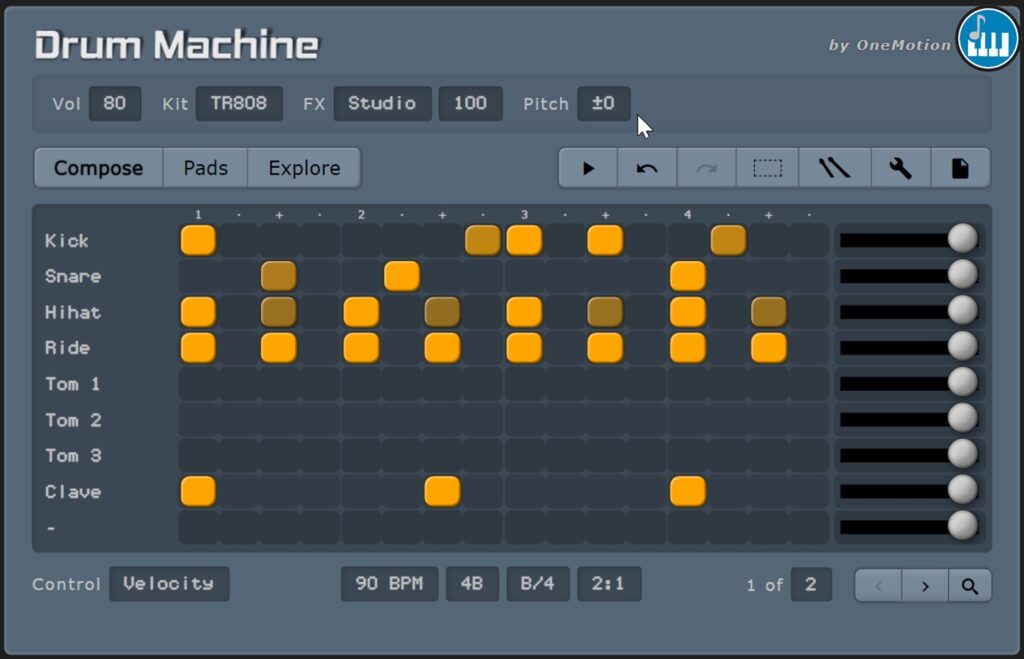 Drum Machine by OneMotion is a free online rhythm machine that is simpler than Beatmaker but that still shows great flexibility to make Beats, allowing you to record by bars, with a limit of 32. In addition, Drum Machine has a library of tracks or bases that users are recording. In addition, it allows you to export in audio or Midi format. It allows you to vary from tempo structures that go from B/2 -two pulses or beats per bar- to B/8.
This rhythm machine has 19 different kits with acoustic and electronic drums of all kinds to make Beats online for free. This online app has six sounds: Kick, Snare, Snare Rim and three Toms : high, middle and low. Also, it has several cymbals: Hihat, Hihat Close and Hihat Open, Crash, Ride and Ride bell. All sounds can be used with different intensities. Also, you can edit each track using the sample or audio library that the App has.
Drum Machine by OneMotion also has 6 effects that simulate different room acoustics: Studio, Gated, Chamber, Hall, Plate and Church and a Blender that you can take from 0 -dry signal- to 100 -wet signal-. Additionally, this drum software has a Pitch to modify the audio. It also has four modes of Shuffle or Swing. It also has the option of effects, panning, volume and other independent settings for each audio.
The interface has three modes Compose, Pads and Phone. Giving a flexibility of use and more "friendliness" for the user. Finally, it has a fun virtual "drummer" who plays what is programmed.
In our opinion, Drum Machine by OneMotion along with Drumbot Sequence is the best free online Drum Machine app, for quality, ease of use, features and flexibility.
Drumbot Sequence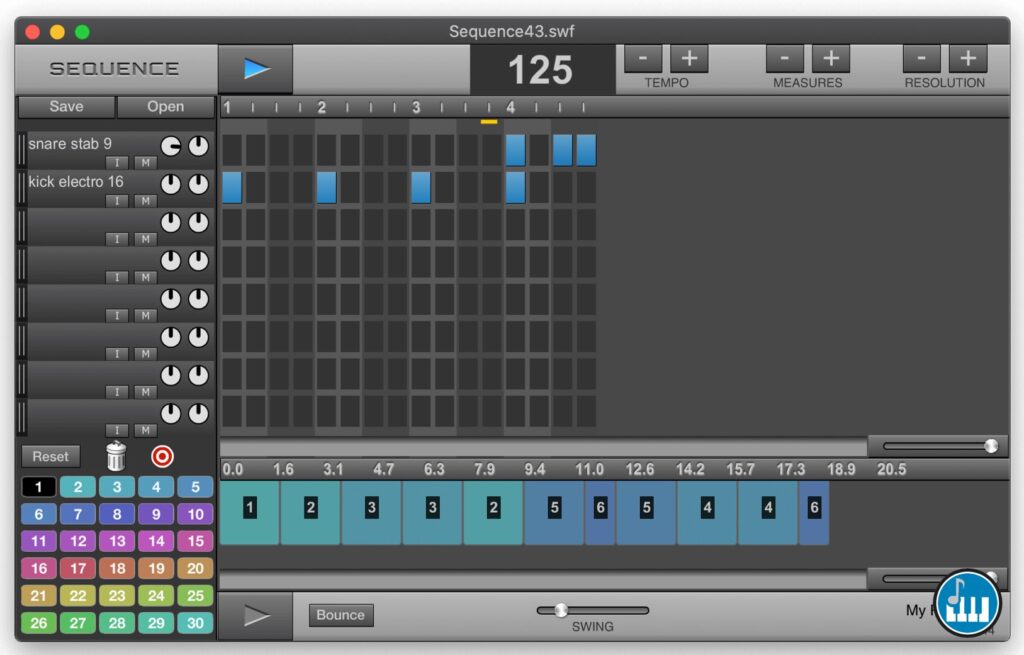 The Drumbot Sequence is a rhythm machine that allows you to generate up to 30 different sections to build songs. Which allows you to build Beats online for free with pattern changes, like no other Drum Machine. Includes over 400 unique drum samples, from electro to real drum kits.
You can save your Beats as a text file so you can reopen it in the tool itself, or export it to a WAV audio file for use in other projects or software.
Drumbot Sequence has 8 channels to configure your drum loops. Each channel is assigned a drum sound. Each has its own volume and pan knob.
At the bottom you can organize the sections of your Beats, using different loops for verses, verses and bridges. So you can manage the intensities, cuts and whatever you want to do for your Beat.
While Drumbot Sequence has few editing options and effects to edit your Beats, it has a capability that no other drum machine included here has. It can handle a huge number of loops that you can order as you like, allowing you to make a Beat with different sections.
Drumbot Sequence along with OneMotion Drum Machine, are the best drum machines in our opinion. While OneMotion allows you to better edit and model sounds, Drumbot allows you to build complex structures so that you can make the drum base of even the most complex Beat.
Drumbit Online Drum Machine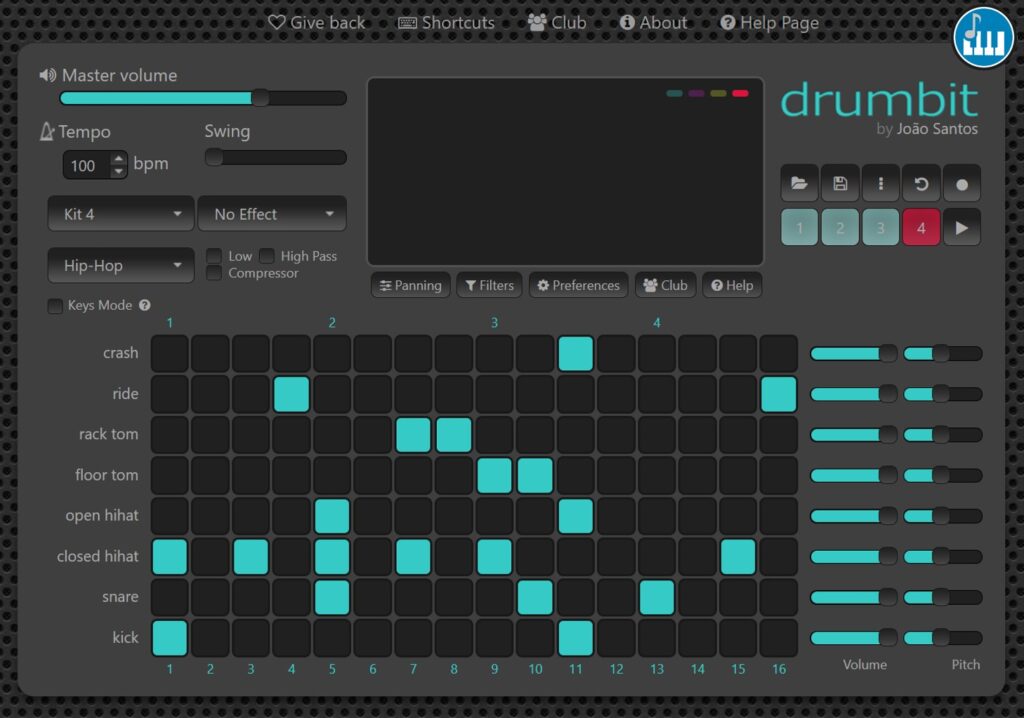 Drumbit by Joao Santos is the free version of online virtual drum machine. Although it sacrifices some features of the paid one, it still has many options for editing and configuring the audio. Thus, Drumbit includes a Compressor, Low-Pass and High-Pass. It has Pitch settings for each bank or audio as well. The limitations of this free virtual drum machine is that it only allows you to work on sixteen 4/4 bars.
It has 21 different kits with acoustic and electronic drums of all kinds. The Drums are of four pieces: Kick, Snare, Snare Rim and two Toms, high and low. On the cymbal side it has Hihat Close and Hihat Open, Crash and Ride.
Drumbit has 12 ambient modes for audio editing. These modes simulate room acoustics: Studio, Room 1 and 2, Chamber, Medium and Large Hall, Underground, and other effects such as Spring Reverb, Intercom, Telephone, and Muffler. Additionally, it has Pitch to modify the audio giving a wide variety of sounds. It also features Swing control. Also, it has the option of effects, panning, volume and other independent settings for each audio. Also, Drumbit has the option to export the Beats in JSON files. Thus, for us it is one of the best free online drum machines available on the web.
WebAudio Drum Machine
WebAudio Drum Machine is a simple and effective drum machine to create Beats online for free. It has a four-bar loop of 4 beats. It has Kick, Snare, three Toms and a Hi-hat. Each of the audios has two beat intensities, which opens up the possibilities of expression and details, highlighting it above the others.
This online drum machine has 15 acoustic, electronic and even voice simulation -Beatbox- drum kits. It has more than 20 effects, including environment simulation, sound filters such as Telephone, and reverberation such as Spring Reverb, among others, whose intensity can be adjusted. Each of the tracks has its own Pitch level control.
Also, WebAudio Drum Machine has 5 Swing control demos and the option to save the rhythm or the drum base. However, it only allows you to save it to a flat text file that can only be used in the same tool. Although we do not consider it one of the best free online drum machines, given the possibility of handling different intensities, we found it interesting to include it in our list of options for that Beatmaker who is in the details when making his Beats.
If you decide to go further, we suggest you read how to build a Home Studio. For this you will need an audio interface to record on your PC, Mac or Linux. You can use a free DAW to record, edit and master music and audio. Finally, you can use free or paid VST virtual amps.
To be able to record songs, we suggest you choose one from our guide to the best USB and XLR condenser microphones.
Have you tried any of these tools to make Beats online for free? Tell us about your experience below, in the comments section.